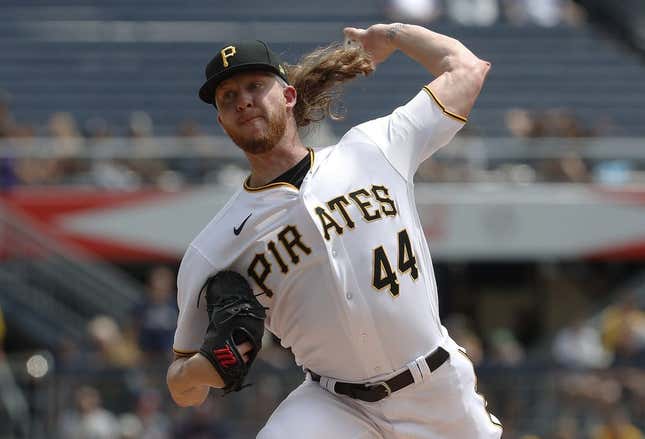 The visiting Chicago Cubs, in the thick of a chase for a playoff spot, go for a series win against the Pittsburgh Pirates on Sunday.
How running an NFL team is like running a restaurant | Chef Emeril Lagasse
The Cubs have won two of the first three contests in the four-game series.
That includes Saturday's wild 10-6 win, when Chicago broke out of an interesting streak. The Cubs had played 10 straight games decided by one or two runs.
As it was, Chicago was up 8-1 in that game and threatened to spoil a strong major league debut by left-hander Jordan Wicks by allowing the Pirates back in the game. Pittsburgh was within 8-6 at one point.
Giving a top prospect a start with the situation the Cubs are in is a big moment for the franchise, Chicago manager David Ross said.
"When you see a young man put in the work, have all the hype and get to make his debut in this kind of pennant race, just a really, really cool moment for where we're headed," Ross said of Wicks, who struck out nine and gave up one run in five innings.
The Cubs are 8-1 this year against Pittsburgh.
In the series finale, Chicago right-hander Javier Assad (2-2, 3.13 ERA) is scheduled to start opposite Pittsburgh left-hander Bailey Falter (1-7, 4.53).
Assad was scheduled to start Saturday, but that got pushed back after the Cubs moved struggling starter Drew Smyly to the bullpen — he pitched in Friday's game — and put reliever Michael Fulmer (right forearm strain) on the 15-day injured list. They then recalled Wicks.
Ross said Fulmer has been dealing with the forearm problem "for a while," and that it wasn't improving.
Over his past four starts, Assad is 1-0 with a 2.86 ERA.
His only career appearance against the Pirates came last season. He did not get a decision in a start on Sept. 23, 2022, pitching four innings and allowing four runs (three earned) and four hits.
Falter got his first win with Pittsburgh his last time out, which was his fourth appearance since being acquired from Philadelphia.
After making three starts for the Pirates, he pitched six innings last Monday against St. Louis in a scheduled long relief appearance, allowing one run and three hits and matching his career best with eight strikeouts.
Falter was relieved to finally get a win.
"It feels really good. I was just praying that I was going to get one this year," he said. "It's crazy, but baseball works in funny ways."
Such as going from starter to a new role that game. Falter said Pittsburgh manager Derek Shelton and pitching coach Oscar Marin told him, after Thomas Hatch was used as an opener that game, that they thought long relief would be a good fit.
"So that's what they went with, and I couldn't agree more," Falter said. "My job is to go out there and get outs until they take the ball out of my hand — it doesn't matter if it's starting, relieving, closing."
For now, it's back to starting.
Falter is 0-1 with a 9.35 ERA in four career appearances (one start) against the Cubs.
—Field Level Media