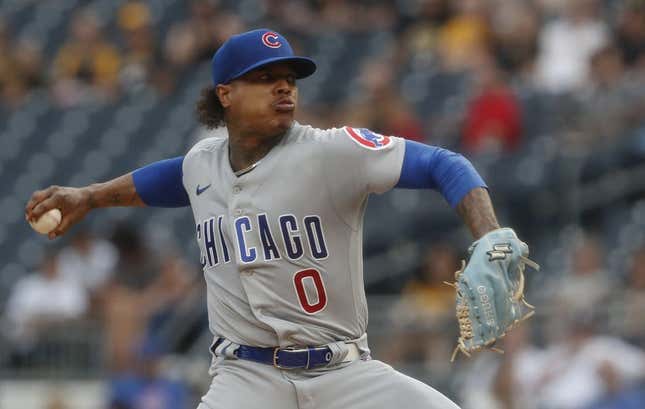 Marcus Stroman is on quite a run of success for the Chicago Cubs, who are also playing some of their best baseball
How running an NFL team is like running a restaurant | Chef Emeril Lagasse
However, he hasn't enjoyed much good fortune against the St. Louis Cardinals
Taking his act to England, Stroman tries for an eighth consecutive winning start as the Cubs eye a fifth straight victory and a two-game MLB London Series sweep of the rival St. Louis Cardinals on Sunday
Entering play Saturday, Stroman (9-4, 2.28 ERA) led the majors with 14 quality starts, and tops the NL in ERA and opponents' batting average (.191). The right-hander has yielded just seven earned runs over 48 2/3 innings during his seven-start winning streak.
Stroman allowed five hits with a walk through seven innings of Chicago's 4-0 win at Pittsburgh Tuesday. It marked the sixth time in 16 2023 starts that he didn't give up an earned run.
"My favorite thing about 'Stro' is the confidence he carries, the belief in himself and the mindset he has," Cubs manager David Ross said
Even before this start, Stroman proved to be a favorite in London. Cubs fans chanted his name in front of club owner Tom Ricketts, while he addressed the crowd at a local pub, to entice a Stroman contract extension
A good showing Sunday could help accomplish that for Stroman, who is 0-4 with a 5.22 ERA in seven starts against the Cardinals since recording his only win versus them in 2014, while with Toronto. He gave up two runs, four hits and struck out six in six innings of a 3-1 home loss to the Cardinals on May 8
Ex-Cub Willson Contreras went 2-for-4 with a double versus Stroman in that contest, while Paul Goldschmidt was 0-for-4, but is a lifetime .381 hitter against him.
Goldschmidt's RBI single was all St. Louis mustered during Saturday's 9-1 loss to Chicago, which has won 11 of 13. The Cubs have averaged 7.3 runs while hitting 13 homers in winning nine of the last 10 to get within one game of .500. Ian Happ homered twice Saturday, Dansby Swanson also went deep and Christopher Morel had three hits for the Cubs, who have carried over their recent success to an international stage
"We're just playing good baseball," Happ, 6-for-14 in the last three games, told Fox.
"You saw (Saturday) what a complete game looks like."
After the Cardinals announced Jack Flaherty was scratched from his scheduled start Sunday due to right hip tightness, Matthew Liberatore (1-2, 6.12 ERA) will now take the ball. Set to make his sixth 2023 start, the left-hander allowed five runs, four hits and two walks in four innings of last Sunday's 8-7 victory over the New York Mets
Happ homered last season versus Liberatore, who went 0-1 with a 9.00 ERA in two outings against Chicago in 2022.
St. Louis has been outscored 12-1 in losing two straight after totaling 30 runs during a four-game winning streak. Adam Wainwright yielded seven runs and 11 hits while completing just three innings Saturday for the last-place Cardinals
"Overall a bad day," St. Louis manager Oli Marmol told Fox.
"It's a great experience (in London), but it's still business, and obviously you want to go out there and win."
St. Louis rookie Jordan Walker is batting .388 during his 14-game hitting streak.
--Field Level Media