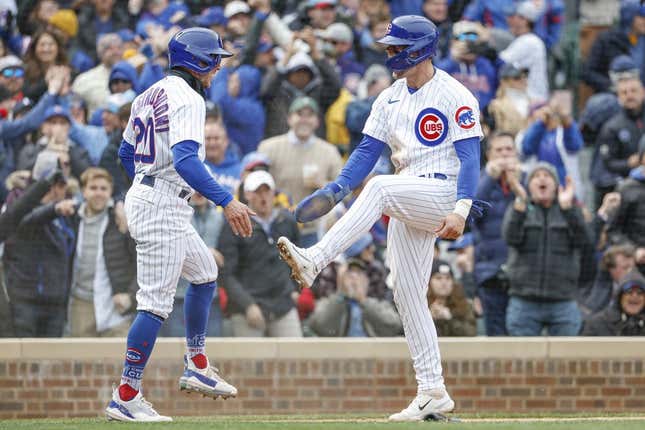 Nico Hoerner set the tone for the Chicago Cubs on Opening Day by delivering the team's first hit of the season, a third-inning single to right field
Bass' ERA stinks, but not compared to who he is off the mound | Worst of the Week Countdown
Cubs manager David Ross wasn't surprised a bit
After Chicago won the opener 4-0 over the visiting Milwaukee Brewers, the teams will continue their three-game series on Saturday
Hoerner served as the Cubs' leadoff hitter in the opener after signing a three-year, $35 million extension earlier this week. Ross said the second baseman's hustling style of play is a perfect fit for a scrappy Cubs team
"The way he prepares, the way he goes about playing baseball. He's the one that comes in on off days and is still doing his routine," Ross said. "He's just a baseball rat. Another one of those great people that are really good baseball players. The fact that we get to have him around for a long time is really fortunate for me and this organization."
Milwaukee is looking to bounce back after being held to four singles and five walks in the opener.
Brewers right-hander Brandon Woodruff (13-4, 3.05 ERA in 2022) will take the mound against Cubs left-hander Justin Steele (4-7, 3.18)
Woodruff, 30, is 2-2 with a 3.27 ERA in 16 career appearances (14 starts) against the Cubs, including 1-2 with a 3.68 ERA in nine career games (seven starts) at Wrigley Field
The two-time All-Star has a 2.79 ERA and 401 strikeouts in 57 starts across 332 2/3 innings over the last two seasons.
Steele, 27, is hoping to build on his success from last season, when he started 24 games and recorded 126 strikeouts over 119 innings. Steele is 1-2 with a 2.70 ERA in 10 career appearances (eight starts) against Milwaukee, including 1-1 with a 2.57 ERA in four starts at Wrigley Field.
Steele is part of a promising starting rotation that includes Hayden Wesneski, Jameson Taillon, Drew Smyly and Marcus Stroman, who tossed six scoreless innings in the opener.
"Our starting five's legit," Stroman said. "Wesneski's our five -- he's nasty. Taillon's nasty. Smiley's nasty. Steele is filthy, as well. I've got all the confidence in these guys."
Milwaukee's offense will look for a restart at Wrigley Field, where the wind was blowing in on Thursday as it is likely to do in Chicago when temperatures are cold.
The Brewers welcomed four newcomers to the lineup, but the quartet of Jesse Winker, William Contreras, Brian Anderson and rookie Brice Turang went a combined 3-for-13 with seven strikeouts
"We had some chances early and couldn't capitalize," Brewers left fielder Christian Yelich said. "It's part of the game; it happens. We had some early traffic and then it quieted down a little bit as the game went on
"Coming into the game and especially playing in this stadium early in the year, you kind of know it's not going to be a super friendly offensive environment, so if you get a good chance, you've got to take advantage of it, and we just couldn't do it."
The Brewers are monitoring the status of third baseman Luis Urias, who tweaked his right hamstring in the ninth inning. If Urias is unavailable, Milwaukee will likely turn to reserve infielders Mike Brosseau or Owen Miller
--Field Level Media