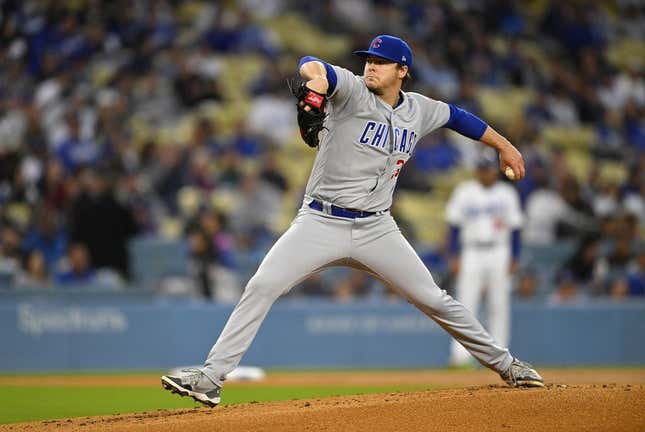 Justin Steele tossed seven strong innings and Yan Gomes hit two of the visiting Chicago Cubs' five solo home runs in an 8-2 win over the Los Angeles Dodgers on Friday
Air Jordans are more American than McDonald's French fries | Deon Cole's Ultimate Sports Fantasy
Ian Happ, Seiya Suzuki and Patrick Wisdom also homered for Chicago, which had lost its last 10 games against the Dodgers dating to June 25, 2021. Happ had four hits, three RBIs and a stolen base
Steele (2-0) allowed two runs on three hits with one walk and eight strikeouts. The left-hander has given up a total of three runs in his first three starts covering 19 innings.
Gomes was 3-for-4 with two RBIs, three runs scored and a stolen base for Chicago, which has won six of its last eight games.
The Cubs led 3-2 before hitting three homers in the eighth inning against Dodgers reliever Andre Jackson. Happ and Suzuki hit back-to-back home runs to begin the inning before Wisdom added a one-out blast to left field
The Dodgers were held to three hits, including solo homers by Chris Taylor and Max Muncy. Los Angeles has lost five of its last seven
Chicago claimed an early lead with two outs in the third inning. Happ's ground-rule double against Noah Syndergaard (0-2) scored Gomes, who singled to begin the inning and stole second base.
The Dodgers responded in the bottom half of the third on Taylor's leadoff homer to left-center field. The home run was Taylor's third of the season and snapped an 0-for-12 skid
Chicago moved ahead 2-1 in the fourth when former Dodger Cody Bellinger hit a leadoff double and later scored on Eric Hosmer's groundout.
Gomes added another run with a solo homer to begin the fifth inning off Syndergaard, who allowed three runs on six hits over six frames. He walked two with a season-high nine strikeouts.
Steele retired eight batters in a row before Muncy cut the lead to 3-2 with a leadoff homer in the seventh. The 389-foot shot was Muncy's fifth homer in his last four games and 150th of his career.
Chicago added two insurance runs in the ninth when Gomes hit a leadoff homer and Happ delivered a run-scoring double with one out.
Suzuki made his season debut after suffering a left oblique strain during spring training, while Cubs shortstop Dansby Swanson went 0-for-5 with a career-high five strikeouts
--Field Level Media