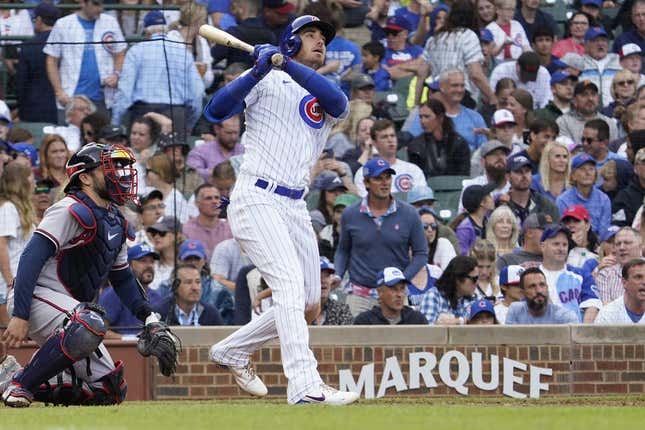 The Chicago Cubs are one of the hottest teams in the majors. The New York Mets, in turn, can stake a claim to being one of the coldest
How running an NFL team is like running a restaurant | Chef Emeril Lagasse
Winners of 15 of their last 19 contests, the Cubs look to continue their good fortune on Monday when they open a three-game series against the reeling Mets in New York
Chicago bounced back from a lopsided 8-0 setback against the Atlanta Braves on Friday to capture the final two games of the weekend series
"The thing I love about this team is the resiliency, the character, the consistency with which they come in every single day, who they are as humans," Cubs manager David Ross said. "I said this in spring training: They're a fun group to be around.
Cody Bellinger is having fun, as he is batting a robust .419 (13-for-31) during an eight-game hitting streak. He recorded his third straight multi-hit performance during Chicago's 6-4 victory over visiting Atlanta on Sunday
Dansby Swanson collected two RBIs for the second straight game against his former team. Four Cubs players drove in runs, and eight batters reached base on Sunday
"The offense again, man, just relentless at-bats," Ross said. "The walks fuel us a little bit, and getting guys on and creating traffic. Stealing a base here or there and putting the pressure on the defense and some timely hitting.
New York is singing a vastly different tune after it mustered just four hits en route to dropping a 2-0 decision to the Baltimore Orioles on Sunday. The shutout was the second during the Mets' six-game skid, and they are a season-worst 11 games under .500
"A really, really tough week," New York first baseman Pete Alonso said. "A very tough week.
"Not too good," Mets manager Buck Showalter said of his team's 0-6 road trip. "We've got to turn some things around and people will continue to, hopefully, make use of their opportunities. But there's a learning curve. It's painful for them sometimes. I feel for them.
Chicago will turn to left-hander Drew Smyly (8-7, 4.71 ERA) in the series opener on Monday against right-hander Kodai Senga (7-6, 3.25)
Smyly, 34, started the season strong by posting a 7-4 record with a 3.38 ERA in his first 15 outings, but he is just 1-3 with an 8.40 ERA in his last seven. He received a no-decision on Wednesday after allowing five runs on six hits -- including three homers -- in 4 2/3 innings against the Cincinnati Reds
Smyly improved to 4-0 with a 2.17 ERA in seven career games (five starts) versus the Mets after permitting two runs on four hits in five innings of a 7-2 victory on May 23
Senga, 30, sustained his first loss since June 23 on Wednesday after yielding three runs on 11 hits in 5 2/3 innings of a 3-0 setback to the Kansas City Royals
He dropped his lone career encounter with the Cubs on May 24 after allowing three runs on six hits in five innings of a 4-2 setback in Chicago
--Field Level Medi