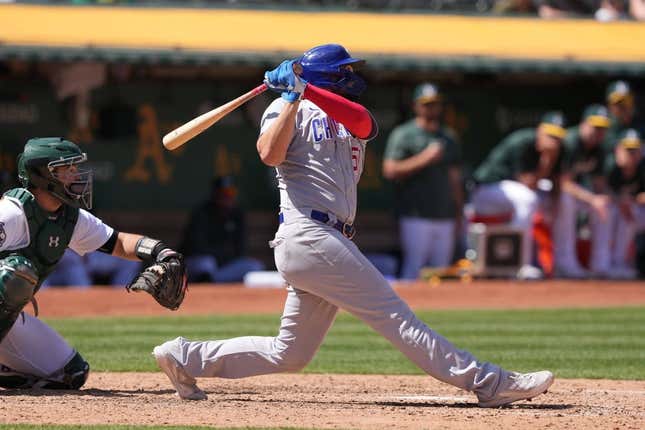 Patrick Wisdom capped a big West Coast trip with a two-run triple, Eric Hosmer hit his first home run of the season and the Chicago Cubs spoiled the major league debut of Oakland Athletics pitching prospect Mason Miller with a 12-2, sweep-completing victory Wednesday afternoon
Left-hander Justin Steele (3-0) remained unbeaten with six strong innings, helping the Cubs complete a 5-1 California swing on which the only loss was a walk-off defeat against the Los Angeles Dodgers on Saturday
While the surging Cubs had been the story -- and the fans' favorite -- the first two nights of the series, all eyes Wednesday were on right-hander Miller, a 24-year-old former third-round pick who had demonstrated a propensity for strikeouts and 100-mph pitches in the minor leagues
Miller topped 100 mph 15 times against the Cubs while working 4 1/3 innings, during which he allowed two runs and four hits. He walked one and struck out five, including Cody Bellinger, Edwin Rios and Wisdom in succession in the second inning
He was pulled two outs into the fifth after a sacrifice fly by Tucker Barnhart had given the Cubs a 2-1 lead. But he wound up with no decision after the A's tied the game in the bottom of the inning on Jordan Diaz's RBI double
The Cubs dominated the final four innings, scoring four times against the Oakland bullpen in the sixth, once in the eighth on Hosmer's homer, and five more times in the ninth on a bases-loaded double by Luis Torrens and two-run single by Nick Madrigal
Wisdom's triple came as part of the tie-breaking sixth inning. He finished the game with two RBIs to wrap up a trip on which he had five homers and nine RBIs.
Chad Smith (1-1), who walked Dansby Swanson and Madrigal to open the sixth, was charged with the loss.
Steele allowed both Oakland runs -- one unearned -- and four hits in his six innings. He walked two and struck out five.
Nico Hoerner had three hits, while Hosmer, Madrigal and Ian Happ collected two each for the Cubs, who out-hit the A's 11-5. Hosmer and Swanson scored three times apiece, while Bellinger and Happ scored twice each
Carlos Perez had an RBI double for the A's, who were swept three straight by both the New York Mets and Cubs on their just completed homestand. Oakland has lost seven in a row overall
--Field Level Media