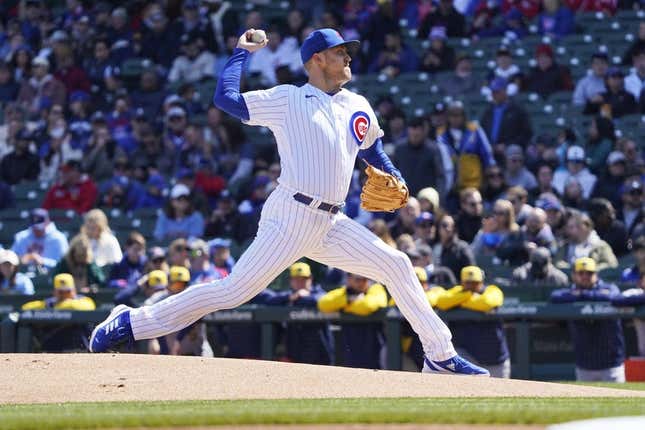 Strong starting pitching has helped the Chicago Cubs win the first two contests of their three-game home set with the Texas Rangers this weekend
Bass' ERA stinks, but not compared to who he is off the mound | Worst of the Week Countdown
Right-hander Jameson Taillon will look to continue that trend on Sunday when the Cubs try to complete the series sweep against the Rangers, whose offense continues to struggle
Marcus Stroman allowed two hits over six scoreless innings of Chicago's 2-0 win over Texas on Friday. Justin Steele followed that start by yielding just one run in six innings during Saturday's 10-3 rout.
The Cubs, who have won three in a row, didn't sweep a series of at least three games at Wrigley Field until their final homestand of 2022
"It's a team approach," Chicago's Patrick Wisdom told Marquee Sports Network.
Taillon (0-1, 6.75 ERA) will look to bounce back after he allowed three runs and seven hits through just four innings in Chicago's 9-5 home loss to Milwaukee last Sunday.
"I was just kind of falling behind in counts," Taillon said. "But, overall, I felt fine. I don't think I need to change anything drastic."
Taillon is 1-0 with a 5.94 ERA in three career starts versus Texas. Corey Seager is 4-for-9 against him all time, and 3-for-6 with two doubles in this series.
However, the Rangers have totaled just 12 runs in six games after scoring 27 in the first two of the season versus Philadelphia. Since sweeping that opening three-game set from the Phillies, Texas has lost four of five games
The Rangers have managed just 10 hits in this series, and, even more costly, had five errors on Saturday -- after committing just two entering that contest
"We've gotta wash this off, this is not the baseball we've been playing," Texas manager Bruce Bochy said.
"Still got to get those clutch hits. It's gonna happen."
Scheduled Rangers starter Jon Gray (0-1, 2.84) allowed two homers among four hits and two walks while striking out seven over 6 1/3 innings against Baltimore last Sunday. However, his teammates managed just one hit against four Orioles' pitchers in the 2-0 defeat
"I think it was a good starting point," the right-hander said.
"I feel like I'm going to be in a good spot. I still feel like there were a handful of weak pitches that really cost us a couple of runs.
"So, I'm just trying to forget about those and think about the good ones. But also remind myself that there's better things to be done."
From his days with Colorado, Gray is 1-2 with a 5.00 ERA in three starts against the Cubs. Chicago newcomer Cody Bellinger has thrived against Gray, going 11-for-23 with five doubles and a triple during his career
Dansby Swanson is 3-for-12 versus Gray, but two of those hits went for doubles. Swanson's Cubs' tenure is off to a stellar start; he's 12-for-28 with three RBIs
Meanwhile, Wisdom is batting .348 with six RBIs in 2023. Teammate Nico Hoerner is 10-for-25 during a five-game hitting streak.
Texas has dropped seven straight games and 16 of its past 20 on the road.
--Field Level Media