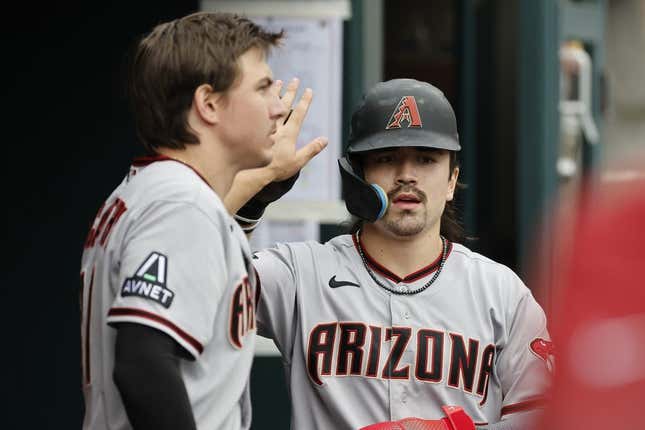 The Arizona Diamondbacks, who went 52-110 two seasons ago, are tied for the best record in the National League as mid-June arrives
How running an NFL team is like running a restaurant | Chef Emeril Lagasse
It has been quite a turnaround for the Diamondbacks, who look for their sixth straight victory and 12th in 14 games when they host the Philadelphia Phillies on Monday night in the opener of a four-game series in Phoenix
The Diamondbacks last made the playoffs in 2017 but are suddenly looking like a possible postseason participant as they sit 15 games above .500 and are tied with the powerful Atlanta Braves for the best mark in the NL
Arizona leads the big-market Los Angeles Dodgers by 3 1/2 games in the NL West race after rallying for a 7-5 victory over the host Detroit Tigers on Sunday. The Diamondbacks pushed across four runs in the ninth inning to snatch the win
"You're down to your final out, you're fighting and scratching all day long for every inch, and you come up with the big hit," Arizona manager Torey Lovullo said afterward. "It's just a testament to what these guys believe every single day. That they can go out and win a baseball game no matter what the circumstances are."
Fueling the Diamondbacks' rise is rookie outfielder Corbin Carroll, who is 10-for-19 with three homers, two doubles, one triple, seven runs and eight RBIs over his past four games
On Sunday, Carroll went 3-for-5 for his third three-hit outing in the four-game span. He also stole his 19th base of the season while scoring twice and knocking in a run.
Carroll, 22, was impressed with the composure of his teammate as Arizona scored five runs in the final two innings.
"There's no panic, everyone's relaxed," Carroll said. "And when you're playing relaxed, you're playing good baseball."
Philadelphia is also playing solid baseball with seven victories in its past eight games.
The defending NL champions are still one game below .500 despite their recent flurry and will be looking to end some recent issues in Arizona.
The Phillies are just 4-12 in Phoenix since the start of the 2017 season
They arrive with some momentum as the recent hot stretch includes taking two of three from the Dodgers, including Sunday's 7-3 home victory.
"We've been playing well for a bit now, so that's good," Philadelphia manager Rob Thomson said afterward. "Now we've got to go play a really good team and win on the road. That's our next goal."
Bryce Harper reached base four times on two singles and two walks. Trea Turner had three hits and scored three times.
"This is the kind of baseball we knew we could play," Turner said of the recent stretch.
Left-hander Matt Strahm (4-3, 3.61 ERA) will make his ninth start of the season for the Phillies in the opener. He is expected to pitch one or two innings
Strahm pitched one inning of relief against the Dodgers on Friday and allowed three runs on two hits, both homers. He had served as the opener in his previous outing on June 3 when he retired all six batters he faced against the Washington Nationals.
Strahm was the opener against Arizona on May 23 and allowed two runs and three hits in two innings. He is 2-3 with a 4.30 ERA in 21 career appearances (four starts) against the Diamondbacks
Arizona's Evan Longoria is 3-for-6 with two homers against Strahm.
The Diamondbacks will counter with left-hander Tommy Henry (3-1, 4.37), who beat the Phillies on May 22. Henry gave up two runs and four hits in 5 2/3 innings during the 6-3 triumph
Henry was roughed up for a season-worst five runs in his last outing when he received a no-decision against the Washington Nationals on Tuesday. He gave up five hits and three walks while striking out two.
Henry is 1-1 with an 8.38 ERA in two career starts against Philadelphia. Kyle Schwarber and Bryson Stott have each homered off Henry.
--Field Level Media