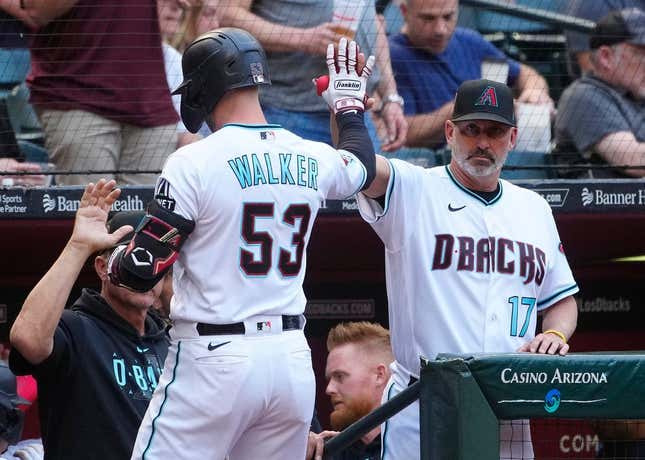 The San Diego Padres won 14 of their 19 meetings against Arizona last season, using the Diamondbacks as a springboard to a wild-card berth in the playoffs
Bass' ERA stinks, but not compared to who he is off the mound | Worst of the Week Countdown
But there were two games in September that served as a warning that change might be on the horizon.
Ryne Nelson, the Diamondbacks' second-round pick in the 2019 draft, shut out the Padres on four hits with seven strikeouts over seven innings in his major league debut on Sept. 5
Ten days later, Drey Jameson made his major league debut. The Diamondbacks' first-round pick (34th overall) from the same 2019 draft shut out the Padres on two hits and a walk with five strikeouts over seven innings
"Those were two games that those young men will never forget," Arizona manager Torey Lovullo said. "For both to pitch seven scoreless innings against a lineup like the Padres have is quite an achievement ... and in their major league debuts.
Sunday afternoon in Phoenix, Jameson will face the Padres for the second time in his career as the Diamondbacks try to gain a split of their four-game series with San Diego
Jameson (2-0, 2.25 ERA) is off to quite the launch of his major league career. After nine appearances (six starts), the 6-foot, 165-pound right-hander has a 5-0 record and a 1.79 ERA.
The Diamondbacks have gone 8-1 when Jameson pitches and 5-1 in his starts. The 25-year-old has worked 40 1/3 innings thus far in the majors, surrendering eight runs on 31 hits with 16 walks and 39 strikeouts
And now he has a rematch with the Padres, but it might not be quite the same
The 2022 Padres didn't have Fernando Tatis Jr. and Xavier Bogaerts in the top half of their lineup. And right-hander Yu Darvish (0-2, 3.44) will be the opposing pitcher this time
Darvish found his stride in his last start against the Milwaukee Brewers, giving up one run on four hits with two walks and 12 strikeouts in seven innings. It was only his third start of the season because he wasn't stretched out on Opening Day due to limited action with Japan's World Baseball Classic championship team.
He didn't make his first start until April 4 against the Diamondbacks in San Diego. Although he gave up only one run on three hits in five innings, he issued four walks and hit two batters while striking out three
"He was rusty," Padres manager Bob Melvin said of Darvish's first two starts. "It took him time to find out which of his pitches were working and which weren't. And when you have seven, eight, nine pitches, that takes time. Against the Brewers, he had more weapons ready to use.
Darvish dominated the Diamondbacks last season. He was 4-0 against Arizona in five starts last year with a 1.97 ERA and a .138 opponents' batting average with 31 strikeouts in 32 innings. Darvish is 7-3 against Arizona in 16 career starts with a 3.47 ERA and a .222 opponents' batting average with 119 strikeouts in 90 2/3 innings
If the Diamondbacks win Sunday, they will be 3-3 against the Padres -- a major improvement from a year ago. San Diego evened the current three-game series at one win apiece with a 5-3 victory on Saturday
--Field Level Media