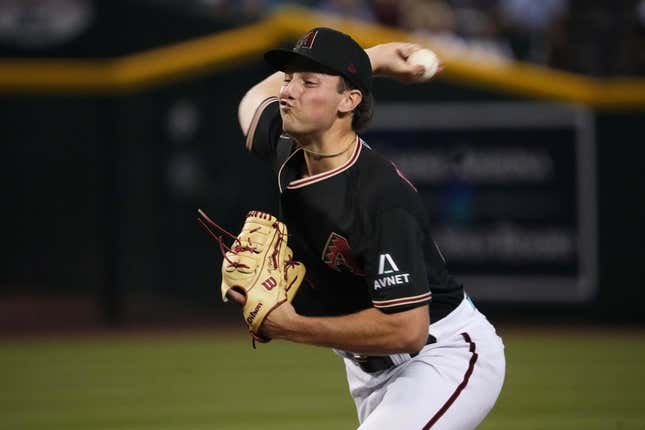 With the Arizona Diamondbacks' nine-game losing streak over, the team is now in search of its first series victory in nearly one month
Is Texas or Florida State a bigger national title contender? | Agree to Disagree
The Diamondbacks will attempt to do precisely that on Sunday when they host the San Diego Padres in the rubber match of the three-game set in Phoenix. Arizona is bidding to win its first series since taking two of three against the Atlanta Braves from July 18-20
The Diamondbacks rode the arm of right-handed ace Zac Gallen to end their skid Saturday night in a 3-0 victory over San Diego. The Padres also are in a slump with losses in five of their past six games
"We stuck to the game plan and made some adjustments along the way, but Zac is one of the best preparation guys out there," Arizona catcher Carson Kelly said of Gallen, who allowed four hits in six innings with eight strikeouts and one walk
Saturday's victory occurred with more than 60 former Diamondbacks in attendance to celebrate the 25th anniversary of the franchise
"It's special to win this game," Kelly said. "It's special to learn from those guys. It's what it's all about, giving back to the next generation.
San Diego will turn to Seth Lugo (4-6, 4.19 ERA) on Sunday against fellow right-hander Brandon Pfaadt (0-6, 7.16
Pfaadt, 24, is in search of his first career major-league victory after 10 starts and two recalls from Triple-A Reno in his rookie season
He will face the Padres for the first time
Lugo is 0-2 with a 4.01 ERA in 11 career appearances (two starts) against Arizona. He has 29 strikeouts and five walks against the Diamondbacks in 24 2/3 innings
In San Diego's 10-5 win over Arizona on Friday night, the Padres equaled their run total in a four-game losing streak entering the game
The Padres' top four batters -- Fernando Tatis Jr., Manny Machado, Juan Soto and Xavier Bogaerts -- were a combined 10-for-19 at the plate Friday after going 5-for-59 in the four-game losing streak
They were 5-for-15 on Saturday night, but Machado had three of those hits
San Diego is 0-for-15 with runners in scoring position in the three losses during its current five-game road trip
The Padres were held to five hits on Saturday by Gallen and relievers Miguel Castro, Kevin Ginkel and Paul Sewald, the latter acquired at the trade deadline from the Seattle Mariners
"We just didn't get too many good swings, period," San Diego manager Bob Melvin said. "Manny had some really good swings today, but other than that, we had a couple of baserunners early and couldn't do anything.
Arizona manager Torey Lovullo said the Diamondbacks made personnel moves before Saturday's game in attempt to "spark us here.
They optioned third baseman Emmanuel Rivera while also designating outfielder Kristian Robinson for assignment, transactions that paved the way for infielder Buddy Kennedy to return to the big leagues after he played 30 games with the Diamondbacks last season
Kennedy, recalled from Triple-A Reno, was in the lineup at third base and batted sixth in the order on Saturday night against the Padres
He did not record a hit and walked in four plate appearances
"We are looking for ways to create some offense and get some run-scoring opportunities going and push us in the right direction," Lovullo said. "Buddy will get this opportunity and see where it takes us.
--Field Level Medi