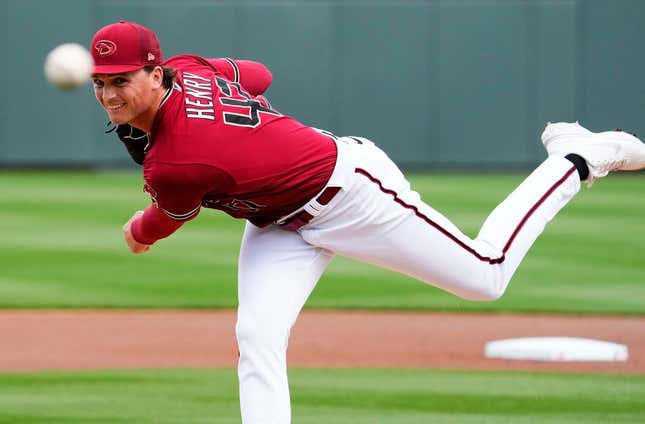 A not-so-funny thing happened to Madison Bumgarner en route to his next scheduled start Monday night against the Royals in Phoenix
Bass' ERA stinks, but not compared to who he is off the mound | Worst of the Week Countdown
The veteran was designated for assignment on Thursday, although the Diamondbacks still owed him some $34.4 million
Arizona general manager Mike Hazen said Thursday that when Bumgarner's difficulties didn't get better with Wednesday's start -- he allowed seven runs on seven hits with four walks in three innings against the Cardinals -- it was time to make the move.
"The recent performance, the first part of the season, in totality kind of adding up, start after start. We tried to leg through it as long as we could, knowing that we wanted it to turn around. We didn't see that as of yesterday, and so we made the decision," Hazen said.
In four starts, Bumgarner was 0-3 with a 10.26 ERA, a hindrance as the young Diamondbacks view themselves as a contender for a playoff berth
"I ask our players and staff to have an urgency around how we're going to play and attack," said Hazen. "So, I have to do the same thing. That was part of the reason we made this decision. This team has played its butts off the first three weeks of the season."
Besides, the Diamondbacks have a minor league system packed with young starters
Left-hander Tommy Henry will make his season debut on Monday night against Kansas City right-hander Brad Keller (2-2, 3.00 ERA).
The Diamondbacks drafted Henry in the second round, the 74th player overall, in 2019. He joins two other high 2019 picks -- right-handers Drey Jameson (34th overall) and Ryne Nelson (56th overall) -- in the current Arizona rotation. And right-hander Brandon Pfaadt, ranked as Arizona's No. 3 prospect on mlb.com, is already at Triple-A Reno
Henry made nine starts last season, going 3-4 with a 5.36 ERA and a 1.45 WHIP. He gave up 28 runs on 47 hits (including 10 homers) and 21 walks with 36 strikeouts in 47 innings. He was 1-0 at Reno this season with a 6.33 ERA and a 1.45 WHIP. He has not faced the Royals previously
Meanwhile, Keller, who was drafted by the Diamondbacks in the eighth round of the 2013 draft, has two of Kansas City's five wins after 22 games of the season
In his first four starts this season, the 27-year-old Keller has given up seven runs on 14 hits and 13 walks with 18 strikeouts in 21 innings for a 1.29 WHIP. He has given up just one homer. This will be the first time Keller has pitched against the team that drafted him.
"Brad's been sharp," said Royals manager Matt Quatraro. "He's been efficient ... very efficient after the first inning in his last outing. The breaking ball has been outstanding. He's getting bad swings with the breaking ball. Brad's been solid right from the start of spring training.
Although the Royals are 4-5 on the road -- compared to 1-12 at home -- the next three games represent the type of opportunity Diamondbacks manager Torey Lovullo talked about in spring training when he said his ballclub could be a playoff contender "if we make the most of our opportunities.
The Royals are 2-11 over their last 13 games, with Keller getting one of those wins
The Diamondbacks were 3-1 against the Royals last year and are 17-14 against Kansas City since the start of interleague play
The three games in Arizona mark the middle leg in a 10-game trip for the Royals
--Field Level Media