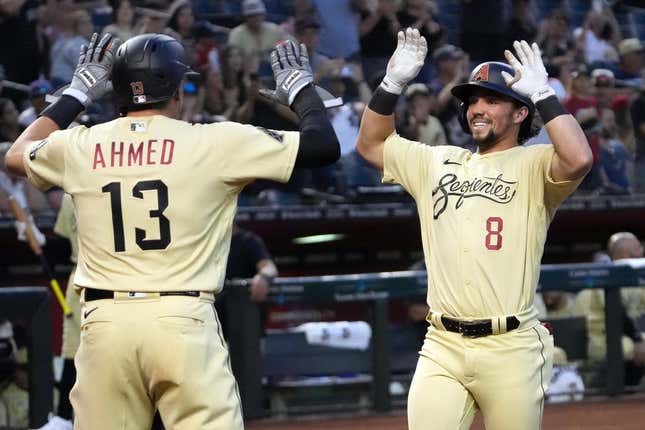 The Arizona Diamondbacks will look to record their second straight victory on Saturday night when they continue their four-game series against the San Francisco Giants in Phoenix
Does Jimmy Butler have the best NBA Finals origin story? | Agree to Disagree
While Arizona snapped a three-game skid with a 7-5 victory on Friday, San Francisco has answered a four-game winning streak by losing four of its last six contests.
Giants manager Gabe Kapler used starter Alex Wood out of the bullpen in the seventh inning on Friday. Wood had just returned from a hamstring injury that he sustained on April 18
"We wanted him to go only one inning because he will start Monday (against the Philadelphia Phillies)," Kapler said. "We wanted him to throw to get back in the groove when he starts again."
Wood said he had "no issues" with the move, although he allowed one run on three hits with a walk and a strikeout on Friday.
"I felt good," Wood said after his 31-pitch outing. "I'm just glad to be back and ready to start."
Arizona manager Torey Lovullo will return to the dugout on Saturday after spending Friday night in Flagstaff, Ariz., attending the graduation of his son Connor at Northern Arizona University.
Former Texas Rangers manager Jeff Banister, now the Diamondbacks' bench coach, was the acting skipper on Friday
Friday's lineup was made in advance with Lovullo's input.
"Typically we make lineups up in advance," Banister said. "We'll have a couple of sets of lineups going into the next consecutive days. Things do happen. You have injuries. You have guys that get banged up a little bit. You may need to tweak that. We don't always make those lineups public."
At the bottom of the lineup is rookie outfielder Dominic Fletcher, who hit his first major-league homer, doubled in the go-ahead run in the sixth inning and had four RBIs in Friday's victory.
Fletcher, 25, made his big-league debut on April 30.
After his 3-for-4 performance Friday, his batting average is now .457.
Fletcher tied the game at 3-3 with a three-run homer in the second inning off Ross Stripling, a 428-foot drive to right-center field.
"My teammates here have welcomed me in, and I'm trying to learn from them every day," Fletcher said. "I'm going out there and competing and trying to win ballgames."
Fletcher added that he is "pretty comfortable" at the plate since joining the Diamondbacks from Triple-A Reno
He also said his experience with Italy in the World Baseball Classic is paying dividends.
"Going out there and playing in that tournament and playing against some of the best in the world really prepared me," he said. "I feel like I can compete against the best every day."
Right-handers Anthony DeSclafani (3-2, 2.80 ERA) of San Francisco and Zac Gallen (5-1, 2.36) of Arizona will be the starting pitchers on Saturday.
DeSclafani is 4-2 with a 2.95 ERA in nine career starts against the Diamondbacks. He has 50 strikeouts and nine walks in 58 innings against Arizona
Gallen is 2-4 with a 4.05 ERA in 10 career starts against the Giants. In 53 1/3 innings against them, he has 58 strikeouts and 18 walks
--Field Level Media