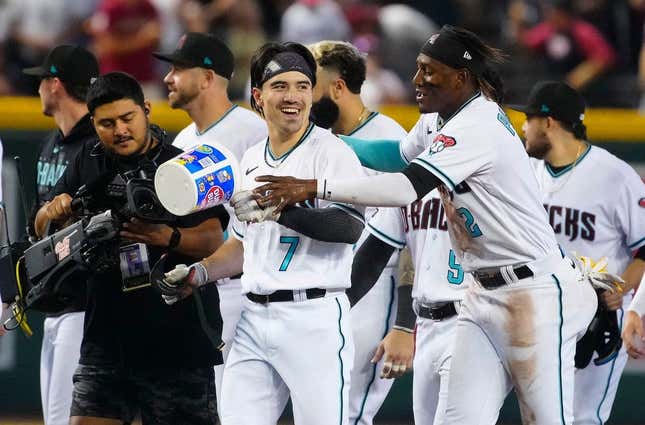 Corbin Carroll has one more game before he'll let it soak in that he's an All-Star in his first full season.
How running an NFL team is like running a restaurant | Chef Emeril Lagasse
Carroll wants to end the first half on a high note when he and the Arizona Diamondbacks go for a three-game sweep of the Pittsburgh Pirates in the series finale on Sunday in Phoenix
His walk-off single in the 10th on Saturday afternoon lifted the Diamondbacks to a 3-2 win after they trailed by a run heading into the bottom of the inning
It was the latest highlight in Carroll's magical rookie season.
Last week, he was named a starter for Tuesday's All-Star Game in Seattle.
"I'm excited about Seattle, but we've got to take care of business (Sunday)," said Carroll, who's batting .292 with 18 home runs and 48 RBIs.
Carroll is just happy to be playing after he exited the 9-0 loss to the New York Mets on Thursday after feeling pain in his shoulder during a swing and miss in the seventh inning.
Fortunately, the MRI came back clean and Carroll was back in the lineup on Friday for the 7-3 win against the Pirates in the series opener
"I thought my season was over coming off the field," Carroll said. "Our medical team, they did a great job. Within 10 minutes, they pretty much assured me I was going to be good. I think it just teaches you to be grateful for every second out here."
The Pirates will be trying to end a four-game losing streak and head into the All-Star break on a high note
The Diamondbacks used seven pitchers in Saturday's victory and they combined to throw 96 of 144 pitches for strikes, leading to 15 strikeouts
"They were ahead the entire time," Pittsburgh manager Derek Shelton said of Arizona. "When you're ahead, you're able to execute your off-speed stuff for putaway."
Jack Suwinski, whose RBI double in the sixth inning gave the Pirates a 1-0 lead, struck out looking in his other three plate appearances
"He's got to be aggressive with two strikes with that much power," Shelton said.
Pittsburgh plans to go the bullpen route in the series finale with Carmen Mlodzinski serving as the opener.
Mlodzinski (1-1, 2.61 ERA) has made all nine of his appearances this season out of the bullpen. He has never faced Arizona.
Zach Davies (1-4, 6.52) will try to find his way out of a season-long slump when he takes the ball for the Diamondbacks
He made his best start of the season on June 28 against the Tampa Bay Rays, throwing seven shutout innings without getting a decision in the 3-2 loss, but took another step back in his most recent outing Tuesday.
He surrendered four runs and five hits in 5 2/3 innings and did not receive a decision after giving up a season-high two home runs in an 8-5 loss to the Mets.
Davies went just 2-5 in 27 starts in his first season with the Diamondbacks last year, a long distance from his career-best season of 2017, when he went 17-9 with a 3.90 ERA in 33 starts for the Milwaukee Brewers
He has made 19 career starts against the Pirates, owning a 6-6 mark with a 4.64 ERA
--Field Level Media