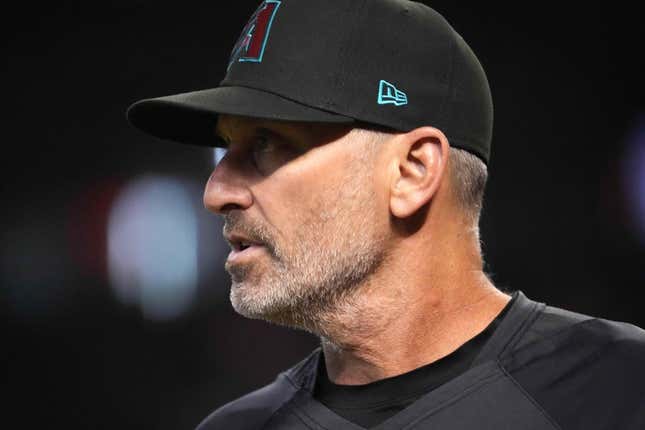 The Arizona Diamondbacks should be eager to get back on their home field on Thursday afternoon as they aim for a split of their four-game series against the Philadelphia Phillies in Phoenix
How running an NFL team is like running a restaurant | Chef Emeril Lagasse
The Diamondbacks felt as if they gave a victory away on Wednesday night when second baseman Geraldo Perdomo and right fielder Jake McCarthy collided on a shallow fly ball in the 10th inning, a play that set up the Phillies to plate an unearned run and hold on for a 4-3 victory
"We're going to learn from it," Arizona manager Torey Lovullo said after the game. "I know it's a very frustrated room right now because I think we let one slip away after coming back (from a 3-0 deficit), but we're going to find a way to make that play next time and be better off because of what we went through."
The Diamondbacks will be up against a Philadelphia offense that has been in rhythm in recent games behind J.T. Realmuto. The hot-hitting catcher is 7-for-12 in the series with two doubles, two triples, two homers, six RBIs and seven runs
The Phillies have won nine of 11, and they have been especially hot the past four games, averaging 8.5 runs in that span
"I feel like we're coming into our stride," Realmuto said. "This is the offense that we envisioned when this team was put together."
The Phillies plan to give the ball to veteran right-hander Aaron Nola in the series finale, hoping their ace can improve on his most recent outing
Nola (5-5, 4.60 ERA) gave up a season-high six runs in a 9-0 loss to the visiting Los Angeles Dodgers on Saturday, allowing a home run for the 10th straight start. He lasted 6 1/3 innings while surrendering seven hits.
After carrying a no-hitter into the seventh inning on June 5 against the Detroit Tigers, Nola retired the first eight batters against the Dodgers before giving up a two-out double in the third, and his night unraveled from there.
"I thought he was better than his line," Phillies manager Rob Thomson said of Nola. "Just kind of fell apart.
Nola is 1-2 with an 8.41 ERA in four career starts against Arizona.
The Diamondbacks will counter with Ryne Nelson, who is coming off an effective outing in Detroit on Saturday, when he threw 5 2/3 shutout innings
Nelson (3-3, 4.95 ERA) allowed four hits, struck out four and walked two in Arizona's 5-0 win. Afterward, he expressed how important it was for him to keep hitters honest with his off-speed pitches.
"There's been some outings where guys just look for the fastball, and they know they're going to get it at some point," he said. "So being able to keep them off-balance, show breaking stuff early was definitely key to getting some more outs (on Saturday)."
Nelson faced the Phillies for the first and only time in his career on May 23 and limited them to one run and three hits in six innings. He left with a 3-1 lead but did not receive the decision in the Diamondbacks' eventual 4-3 victory
--Field Level Media