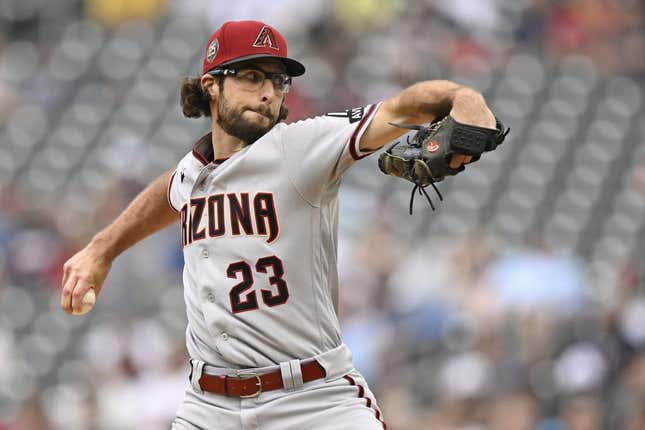 The Arizona Diamondbacks hope ace Zac Gallen can help end their nine-game losing streak on Saturday when the franchise celebrates its 25th anniversary during a clash versus the visiting San Diego Padres at Phoenix
Is Texas or Florida State a bigger national title contender? | Agree to Disagree
Gallen (11-5, 3.37 ERA) is 2-3 with a 3.70 ERA in 10 career starts against the Padres
Arizona, which has not won since July 31, dropped a 10-5 decision on Friday in the opener of the three-game series against the Padres
The Diamondbacks, who are 7-25 in their past 32 games, expect more than 60 former players to take part in Saturday's anniversary celebration
"I don't know what else to do," Arizona manager Torey Lovullo said of his team, which is 12 1/2 games behind the Los Angeles Dodgers after being tied with them for first place in the National League West at the All-Star break. That was one month ago
"I want the guys to focus on the right things, relax and keep things simple. Now, that doesn't mean don't try hard. I want everybody's absolute best effort.
Promising for the Diamondbacks on Saturday is facing veteran left-hander Rich Hill (7-11, 5.09)
Hill has only one win against the Diamondbacks in 13 career starts. He is 1-8 with a 6.18 ERA
In contrast to Hill's woes against Arizona, Blake Snell continued his mastery of the Diamondbacks on Friday
Snell allowed only two hits in six innings while striking out seven and walking four
"The strikeouts are always there and he limited the hits, so it ended up being another Blake Snell game," said San Diego manager Bob Melvin, whose team snapped a four-game losing streak
The Padres matched their run total during that streak with what they scored Friday
Fernando Tatis Jr., Manny Machado, Juan Soto and Xander Bogaerts were a combined 5-for-59 at the plate in the four straight losses to the Dodgers and Seattle Mariners
They went 10-for-19 against the Diamondbacks on Friday
"It's huge," Melvin said of the production of his top four hitters. "It's our identity. It's who we are. Those guys have to perform and certainly tonight it shows you what our expectations are for these guys.
Bogaerts had four hits, including a two-run homer and double, and finished with three RBIs
Tatis finished with three hits, including a run-scoring double
Soto had an RBI triple and Machado an RBI single in a four-run rally in third inning that gave San Diego a 6-1 lead
The Padres' Ha-Seong Kim also extended his hitting streak to 16 games with an RBI single in the sixth. The streak is a career best for Kim and the longest current streak in the majors
The Diamondbacks' five runs Friday are the most they have scored since July 26, when they lost 11-7 to the St. Louis Cardinals
They have not scored more than five runs in a game in their past 13 games
An encouraging development for Arizona in Friday's game was a three-run home run by Tommy Pham, acquired from the New York Mets on Aug. 1
It was his first home run with the Diamondbacks and 11th overall this season
--Field Level Medi