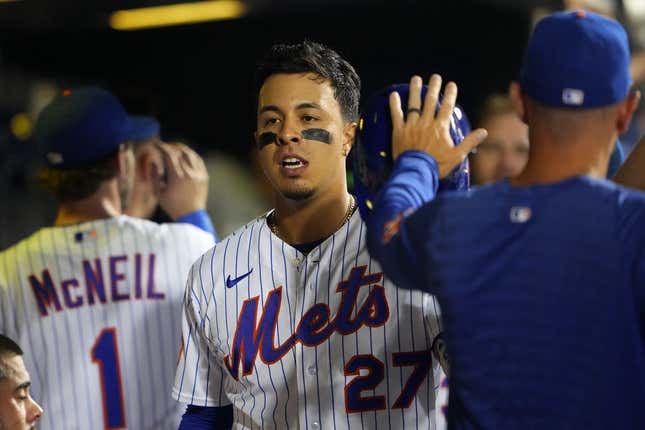 The New York Mets' three-game sweep at Arizona in early July helped send the Diamondbacks into a spiral that nearly ruined their season.
How running an NFL team is like running a restaurant | Chef Emeril Lagasse
More than two months later, a third straight loss to the Mets could deliver an even more painful blow to an Arizona team no longer in control of its postseason hopes.
The visiting Diamondbacks will look to salvage an important split of a four-game series Thursday afternoon when they face the Mets in the final clash of the season between the teams.
Merrill Kelly (11-6, 3.16 ERA) is slated to start for the Diamondbacks against fellow right-hander Kodai Senga (10-7, 3.07).
The Mets handed the Diamondbacks a second straight costly loss Wednesday night, when left-hander Joey Lucchesi carried a shutout into the eighth inning and Pete Alonso collected three RBIs in a 7-1 victory.
The defeat, coupled with Cincinnati's 4-3 win over the Detroit Tigers, dropped the Diamondbacks into a tie with the Reds for the third and National League final wild-card spot. Both teams are 76-71.
However, the Reds have the tiebreaker via their 4-3 win in the season series with the Diamondbacks.
Another loss on Thursday could be even more damaging for Arizona, which is a half-game ahead of the San Francisco Giants and Miami Marlins, both of whom are 75-71.
"We can't do anything other than come out and win a baseball game (Thursday) and split the series," Diamondbacks manager Torey Lovullo said. "That's what we've got to do."
The Diamondbacks are trying to avoid their second three-game losing streak since opening August with a nine-game losing streak that dropped them to 57-59. The nine-game skid completed a 7-25 stretch dating back to July 2 — two days before the Mets earned an 8-5 win in the opener of a three-game series in Phoenix.
New York's sweep came in the midst of a season-high six-game winning streak for the Mets, whose hopes of getting back into the NL wild-card race disappeared when they went 8-9 to close July before trading veterans such as Max Scherzer and Justin Verlander.
This week's consecutive wins over the Diamondbacks have provided glimpses of a potentially brighter future for the Mets. Lucchesi and Jose Butto, who earned his first major league win in New York's 7-4 victory on Tuesday, combined to allow two runs (one earned) over 12 innings in their starts.
Rookies Ronny Mauricio and Francisco Alvarez homered on Tuesday before fellow rookie Mark Vientos did so on Wednesday. The trio is hitting .282 this month with five homers and 14 RBIs.
"The more reps I get, the more confident I get," Vientos said. "I feel like it just comes with just believing in your talent, believing in yourself every time you go out there. We're here for a reason, because we have the talent to be here."
Kelly didn't factor into the decision on Saturday, when he allowed one run over 5 2/3 innings in the Diamondbacks' 3-2, 10-inning win over the host Chicago Cubs. He is 1-3 with a 3.81 ERA in four career starts against the Mets.
Senga also didn't factor into the decision on Friday after giving up two runs over six innings in the Mets' 5-2 loss at Minnesota. The 30-year-old rookie won his lone start against the Diamondbacks on July 5, when he gave up one run over a season-high eight innings in New York's 2-1 victory. Senga matched his career high with 12 strikeouts in that contest.
—Field Level Media