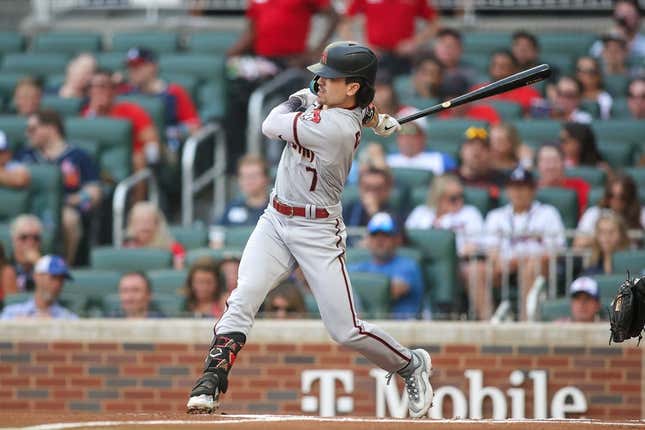 Christian Walker homered twice and drove in five runs, Geraldo Perdomo delivered a tiebreaking, two-run double in the ninth inning, and the visiting Arizona Diamondbacks outlasted the Atlanta Braves 16-13 on Tuesday
Is Texas or Florida State a bigger national title contender? | Agree to Disagree
Emmanuel Rivera homered and Ketel Marte had three hits and three RBIs for Arizona, which outhit the Braves 16-11 and snapped a four-game losing streak. Corbin Carroll reached base four times with two hits, two RBIs and three runs scored
The D-backs prevailed in the wild contest despite the efforts of Atlanta's Austin Riley, who homered twice and had a career-high seven RBIs. Orlando Arcia added a two-run homer and Sean Murphy drove in two runs.
Miguel Castro (5-3) pitched a scoreless eighth inning before Kevin Ginkel struck out the side in the ninth for his first save. Atlanta has lost three straight for the first time since May 12-14.
Arizona tied the game at 13-13 with two outs in the eighth inning when Dominic Canzone delivered an RBI single for his first first career hit. The D-backs moved ahead in the ninth when Perdomo doubled in two runs off Raisel Iglesias (3-4) and Marte followed with an RBI single.
The teams set the stage for an offensive show with a total of seven runs in the first inning. Arizona took a brief 2-0 lead when Carroll tripled in a run against Bryce Elder and scored on a fielding error.
Atlanta responded with five runs in the bottom half of the inning, on a pair of two-run doubles by Riley and Murphy and Michael Harris II's RBI single off Zach Davies.
The D-backs quickly retook the lead with five runs in the second inning, highlighted by Rivera's leadoff homer and Marte's two-run double.
After Walker extended Arizona's lead to 8-5 with a solo homer in the top of the fourth inning, Atlanta moved ahead with four runs in the bottom half. Kevin Pillar doubled in a run and Riley hit a two-out, three-run homer.
Arcia put Atlanta ahead 11-8 with a two-run homer in the fifth inning before the D-backs regained the lead with four runs in the sixth. Carroll singled in a run and Walker hit a three-run homer off Ben Heller.
Riley answered again in the bottom of the sixth with a two-out, two-run homer off Austin Adams.
--Field Level Media