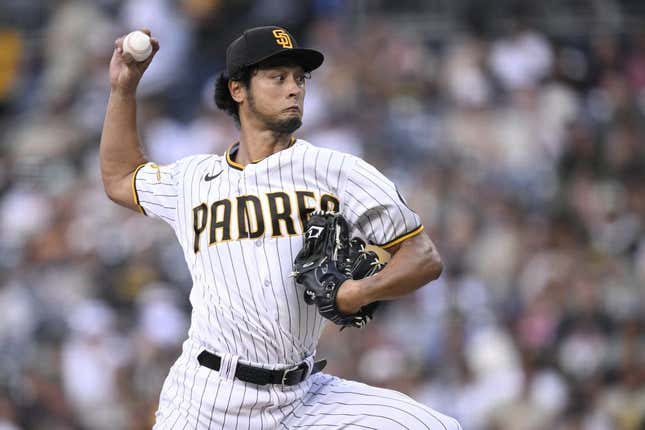 With Hurricane Hilary expected to drench San Diego on Sunday, the Padres and the Arizona Diamondbacks will play a day-night doubleheader on Saturday in San Diego.
How running an NFL team is like running a restaurant | Chef Emeril Lagasse
On Friday, Major League Baseball bumped up the scheduled Sunday game to Saturday. The Padres are also monitoring Hilary in regards to their scheduled series opener against the visiting Miami Marlins on Monday.
"As long as both teams are having to deal with it, it's an even playing field," Padres manager Bob Melvin said on Friday. "They came to me today and said this is what we're doing."
Both Melvin and Arizona manager Torey Lovullo are scrambling to set their pitching for the doubleheader. Diamondbacks right-hander Merrill Kelly (9-5, 3.05 ERA) is penciled in to start the opener, and San Diego right-hander Yu Darvish (8-8, 4.24) is due to start the second game.
Melvin said the Padres' starter in the first game would be the 27th man that teams are allowed to add for a doubleheader. Lovullo was weighing his options for the series finale.
"Moving that game up a day doesn't make that decision any easier," Lovullo said. "Both these (Saturday) games are very important to both teams."
The Padres scored four runs in the eighth inning on Friday to win 4-0 and level the four-game series at one victory apiece. Emphasizing the importance of the situation, San Diego used closer Josh Hader in the ninth even though it wasn't a save situation.
"We needed to keep as many guys available for tomorrow as possible," Melvin said postgame. "We're only able to use Hader once tomorrow, so that's why we used him tonight."
Neither Kelly nor Darvish pitched last weekend when the Diamondbacks and Padres met in Phoenix, a series in which Arizona won two of three.
Kelly owns the sixth-best ERA in the major leagues, but the Diamondbacks are only 11-10 in his starts this season. Arizona lost each of his past four outings even though he logged a 2.74 ERA and a 1.304 WHIP with 28 strikeouts and six walks in 23 innings over those outings.
Kelly is 8-3 during his career against the Padres with a 2.91 ERA, a 1.151 WHIP and a .221 opponents' batting average in 14 starts. He has 75 strikeouts against 27 walks in 77 1/3 innings in those games.
He is 5-2 with a 3.30 ERA in eight career starts at San Diego. In his only start against the Padres this season, Kelly gave up four runs on three hits and five walks in five-plus innings to take a loss on April 22.
The Padres lost each of the past three times Darvish took the mound, although he produced a 2.70 ERA and a 1.100 WHIP in those contests.
Darvish is 1-0 with a 1.69 ERA, a 1.313 WHIP and a .161 opponents' batting average in two starts against the Diamondbacks this season. He is 8-3 lifetime against Arizona in 17 starts with a 3.36 ERA, a 1.142 WHIP and a .217 opponents' batting average.
—Field Level Media