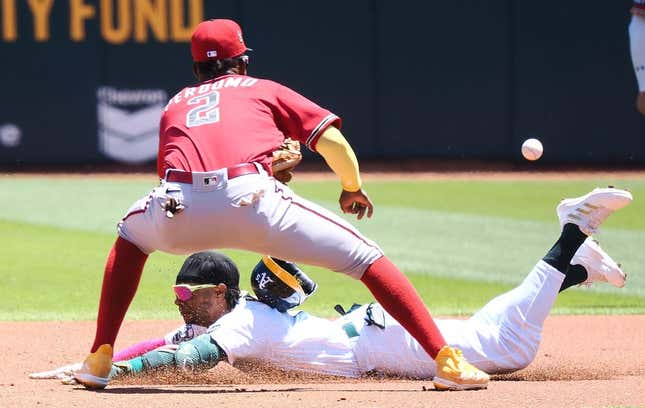 Lourdes Gurriel Jr. doubled and scored the go-ahead run as the visiting Arizona Diamondbacks scored two in the ninth Wednesday afternoon to stave off an Oakland Athletics rally and take a 5-3 victory
After a Ramon Laureano three-run homer had drawn Oakland even at 3-3 in the seventh, Gurriel's double against A's reliever Shintaro Fujinami (1-5) got the visitors headed toward a second win in three tries in the interleague series.
A one-out intentional walk to Dominic Fletcher, followed by an unintentional free pass to Emmanuel Rivera, set the stage for Jose Herrera, whose flyball to right field against Adrian Martinez was deep enough to score Gurriel easily.
Ketel Marte's single made it 5-3 and provided breathing room for Miguel Castro, who worked a 1-2-3 bottom of the ninth for his third save.
Jose Ruiz (1-0), who struck out Laureano with two aboard to end the eighth, was rewarded with his first win.
For the second consecutive day, the Diamondbacks appeared headed for a comfortable win. Once again, they took a big lead into the seventh, only to see it disappear with one swing of the bat
One day after Ryan Noda's grand slam had erased a four-run deficit en route to an Oakland extra-inning win, Laureano blasted a three-RBI shot to turn a three-run deficit into a 3-3 tie.
The homer came after Luis Frias, who had escaped a jam an inning earlier, walked Carlos Perez and Jace Peterson to lead off the rally. Laureano's homer was his fifth of the season.
The Diamondbacks did all their early scoring on home runs, getting a solo shot from Christian Walker, his 11th, in the second and a two-run blast from Corbin Carroll, his sixth, in the sixth
Both homers came off A's starter Luis Medina, who allowed just one other hit and no other runs in his six innings. He walked two and struck out six.
Diamondbacks starter Ryne Nelson was pulled one out into the sixth after he walked the bases loaded. Frias, recalled from Triple-A earlier in the day, retained the 3-0 advantage by getting Brent Rooker to pop out and JJ Bleday to ground out
Marte, who entered the game as a pinch hitter, went 2-for-2 for the Diamondbacks, who continue a nine-game trip in Pittsburgh on Friday
Esteury Ruiz had a double and a single for the A's, who completed a 2-5 homestand.
--Field Level Media