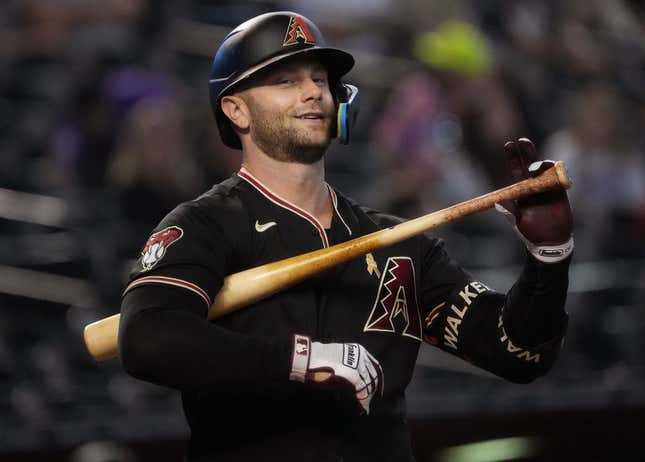 The Arizona Diamondbacks recorded two wins at the Colorado Rockies last month to ignite a sizzling 9-1 run.
How running an NFL team is like running a restaurant | Chef Emeril Lagasse
After losing five of their past six games overall, the Diamondbacks (70-67) will look to get back on track at the expense of the Rockies (50-86) on Monday when the teams open a three-game series in Phoenix.
Arizona lost its second straight game Sunday with an 8-5 setback to the Baltimore Orioles.
The Diamondbacks lead the season series with the Rockies 8-2, including a four-game sweep in Phoenix from May 29-June 1.
Arizona manager Torey Lovullo said he wants his team to return to focus "on the tiny things to make big things happen."
"That's our mentality here," he said. "We have to get back the granular focus. What can I do right now in this at-bat to get on base for the guy in back of me? Connect all those at-bats.
"It's human nature. There's always a normal response to take a big exhale and say, 'OK, where am I at? Who do I have to get going?'"
On Monday, Colorado will start Peter Lambert (3-5, 4.95 ERA) against Arizona's Merrill Kelly (10-6, 3.31) in a battle of right-handers.
Lambert has two appearances without a decision vs. the Diamondbacks in his career. He has a 4.70 ERA in 7 2/3 innings against Arizona.
Kelly is 4-3 with a 4.15 ERA in 11 career starts against the Rockies. He has allowed 76 hits in 69 1/3 innings.
Colorado is coming off a 7-5 loss at home against the Toronto Blue Jays after the game was tied entering the ninth inning.
Rockies closer Justin Lawrence gave up two hits and a walk in Toronto's game-winning rally.
In his last five appearances, Lawrence has a 9.64 ERA in 4 2/3 innings with five walks and five strikeouts.
"It starts with Justin being a little bit out of the zone, more than he was when he was doing well," Colorado manager Bud Black said. "The first-pitch strikes are lacking. He seems like he has to work a little deeper in counts.
"He has to flip that and get the ball in the strike zone earlier."
Arizona outfielder Tommy Pham was scratched from Sunday's series finale against Baltimore because of a bruised right pinky finger. He is day-to-day, according to Lovullo.
Pham, who was slated to be the designated hitter in the game, was replaced in the lineup by Evan Longoria.
Christian Walker also wasn't in the Diamondbacks' lineup Sunday until entering in the sixth inning.
He left Saturday's 7-3 loss to Baltimore in the fifth inning after he was struck on the right elbow by a sinker from Kyle Bradish in the third.
Walker hit his 30th home run of the season in the ninth inning.
—Field Level Media