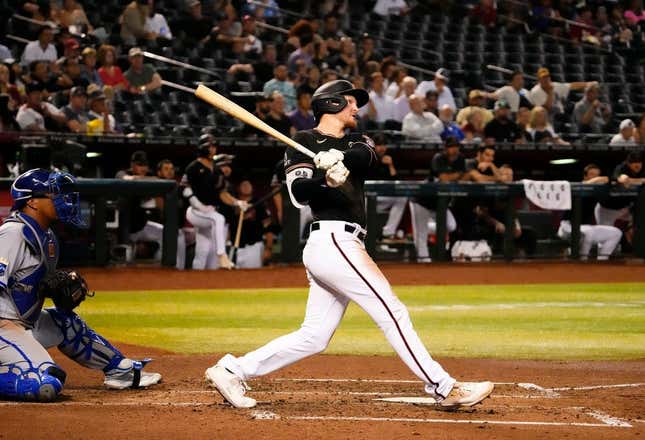 Arizona Diamondbacks manager Torey Lovullo is mindful of his team overlooking the struggling Kansas City Royals after an arduous schedule that has included two series apiece against two top National League West rivals, the Los Angeles Dodgers and San Diego Padres
How running an NFL team is like running a restaurant | Chef Emeril Lagasse
"It's a dangerous thing to start thinking about who you're playing and what their record is because we respect every opponent," Lovullo said. "If we start to look at them as less talented, which they are not, we're in trouble."
The Diamondbacks, who began play Monday with one win in their previous five games, had to rally in the bottom of the eighth inning to beat the Royals 5-4 in the series opener at Phoenix
Kansas City lost for the ninth time in the past 10 games.
The Royals, 1-12 at home this season, are 4-6 on the road
"I don't care if it's home or road. It's frustrating to lose, and everybody in there is frustrated," Kansas City first-year manager Matt Quatraro said. "It's not any way that we wanted to start the year, but by no means does that define how the whole year's gonna go."
With the score 4-4 in the bottom of the eighth inning on Monday, Christian Walker drew a one-out walk against Kansas City reliever Aroldis Chapman and moved to third on Gabriel Moreno's single.
Nick Ahmed followed a groundball to first baseman Vinnie Pasquantino, whose errant throw to home plate allowed Walker to score the go-ahead run.
Kansas City had rallied in the top of the inning to tie the game at 4 behind an RBI single from Kyle Isbel.
"How do we like our chances? Anytime Chapman comes in the game, we're anticipating a zero (runs)," Quatraro said. "There are a tons of positives, but just a frustrating way for it to end."
Two right-handers will start against each other on Tuesday, Kansas City's Brady Singer (1-2, 8.14 ERA) and Arizona's Ryne Nelson (1-0, 4.91).
Singer has started once against the Diamondbacks, earning the win in Kansas City last Aug. 24. He allowed four hits and a run with six strikeouts and no walks in seven innings
Nelson, in his second major league season, has yet to face the Royals
In his first three starts of the season, Nelson pitched between five and six innings each time and allowed no more than three runs in an outing. He had his worst appearance of the year in his latest outing, when he yielded five runs in five innings during a no-decision against the Padres on Thursday.
Nelson was a 2019 second-round draft pick of the Diamondbacks, the same as Arizona's Monday starter, left-hander Tommy Henry
Henry was promoted from Triple-A Reno to take Madison Bumgarner's spot in the rotation. Bumgarner, who is owed $34.4 million by the Diamondbacks, was slated to start Monday before he was designated for assignment last week after going 0-3 with a 10.26 ERA in four starts
Right-hander Drey Jameson, a 2019 Diamondbacks first-round pick, was demoted to Reno on Monday after allowing three runs and lasting only the first inning in his start Sunday against the Padres, a 7-5 loss
Lovullo said the Diamondbacks want Jameson (2-1, 3.71 ERA) to work on his command as well as his secondary pitches in Reno. He added that another starter would be called up when Jameson's turn in the rotation rolls around
--Field Level Media