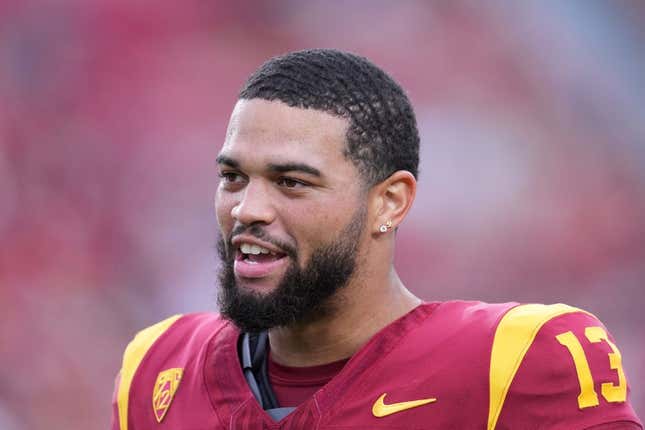 The father of Southern California quarterback Caleb Williams, projected to be the No. 1 pick in the 2024 NFL Draft, said returning to school is an option if the team holding the top pick is not a "good situation."
How running an NFL team is like running a restaurant | Chef Emeril Lagasse
Carl Williams made the comments in an interview with GQ Sports published Wednesday.
"The funky thing about the NFL draft process is, he'd almost be better off not being drafted than being drafted first. The system is completely backwards," Carl Williams said. "The way the system is constructed, you go to the worst possible situation. The worst possible team, the worst organization in the league — because of their desire for parity — gets the first pick. So it's the gift and the curse.
"He's got two shots at the apple," Williams added. "So if there's not a good situation, the truth is, he can come back to school."
Williams is a heavy favorite to repeat as the Heisman Trophy winner, which would be a first since Ohio State's Archie Griffin in 1974-75.
He has passed for 597 yards with nine touchdowns and no interceptions during USC's 2-0 start to the season.
Looking ahead to draft night, Caleb Williams told GQ that not being able to choose his own team for the first time in his football career will be odd.
"Going into this next part of my career, it's weird 'cause it's so uncertain," he said. "You don't know anything. You can't control anything but you and how you act. That's honestly the weirdest part for me, is the uncertainty."
—Field Level Media