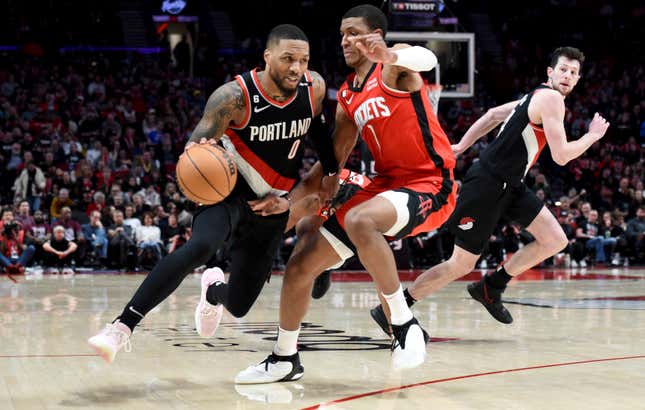 If a tree falls in a forest, and nobody is around, does it make a sound? What if it drops 71? That age-old question describes how empty Damian Lillard's explosion of points felt — but not because of anything Lillard himself did wrong.
Jordan Poole ruins Golden State Warriors comeback and… we're being too hard on him | Keep it a Buck(et)
Since the calendar flipped to 2023, Lillard has been the most automatic bucket in the league, scoring 210 more points than any other player in The Association. He's also a Portland loyalist, clinging to the Trail Blazers tight enough to turn his knuckles white. Unfortunately, Dame Time is running out, and underneath the eye-popping stat line, last night was a reminder that he's going to begin decaying soon on a franchise that may not be developing into a championship team in this timeline.
Saturday night was just a continuation of Lillard's ongoing scoring spree. The hollowness of it all is partially due to the circumstances surrounding Lillard's performances. For one, most of the nation missed it live. But that's nothing new for Dame. By the time the alert had gone out to the east coast that he'd scored 41 before halftime (courtesy of a logo-length three) it was already 10:14 on a Sunday night.
But even Lillard's prolific scoring feels like it's become ubiquitous throughout the league. Every superstar seems to have one of these games these days. The Clippers and Kings combined for 351 just a night earlier.
The once-rare phenomenon of huge individual scoring has become so commonplace this season that they've begun to lose their luster. Donovan Mitchell already put up 71 this year in an overtime victory over the Chicago Bulls last month. Lillard himself now has five 60-plus scoring performances in his career, including one earlier this year.
The opponent matters slightly too. Houston's "Trauma for Wembanyama" tour blunted the impact of Lillard's offensive barrage — Portland won by 17 over an outmatched AAU squad. The Rockets have spent most of this season playing Rucker Park defense, so it's never surprising anymore when some salivating superstar's nuclear reactor ignites against them.
However, 2022-23 is the first NBA regular season to feature 70-point performances from multiple players (Wilt Chamberlain did it himself five times in 1961-62) and both came in the past month. There have been 21 50-point games this season and the league appears on track to shatter the record of 23, which was set four years ago and which was nearly broken during the lockout shortened-campaign. These scoring outbursts are already blurring together.
Meanwhile, Portland's championship aspirations fell by the wayside. Despite Lillard's radioactive glow, the Blazers are only 10-10 in their last 20 games and are outside the play-in at 29-31. Lillard's 71 is a nice superlative on his Hall of Fame resume, but the memories of it will fade if this season continues on its current trajectory. Dame has spent all season trying to get anyone to listen. He even won his first 3-point shooting contest and proclaimed himself the second-best shooter in league history.
Lillard has committed himself to winning in Portland, but the momentum of the franchise current is trending against him.
Over time, Lillard's become the embodiment of when Jay-Z confessed in "Moment of Clarity": "If skills sold, truth be told, I'd probably be lyrically Talib Kweli." Talent-wise, Lillard had been in Steph Curry's zip code for a decade before Ja Morant shepherded in a new generation of ball-dominant point guards and surpassed him in the point guard hierarchy. Lillard is a blend of Curry's deep shooting and Morant's athleticism, but it's never been properly utilized. The closest Lillard's ever come to an MVP was in 2018, when he finished fourth in the vote. In that postseason, Portland was swept in the first round by New Orleans.
Unless Portland forces Lillard out in his twilight years, he'll be one of the few single-franchise superstars in league history. In doing so, he risks condemning himself to not only becoming a less-obnoxious Talib Kweli, but also Portland's contemporary Dave Bing.
Bing was one of the early heliocentric scoring point guards in league history, the 2nd overall pick in 1966, even won a scoring title, was named to the All-Star Team seven times, and was voted easily onto the NBA's 50th Anniversary Team, but spent his prime years on a floundering Pistons franchise that never advanced past the Conference Semifinals. Bing was so revered in Detroit that he was elected mayor of the city in 2009 after Kwame Kilpatrick resigned from office for his role in a criminal fraud scheme. Outside of Detroit, though, Bing's legacy was caught in a riptide of losses and he was quickly swept aside once Isiah Thomas hoisted them into title contention.
Lillard's legacy as a cold-blooded shooter is intact, but his ceiling should be higher than empty scoring outbursts in a lost season. Post-trade deadline, these are the ingredients Lillard is cooking with. But he's got the burners going, so it might be time to check out what else he can concoct over Portland's final 22 games.
---
Editor's note: This story has been updated to correct a number of factual errors.