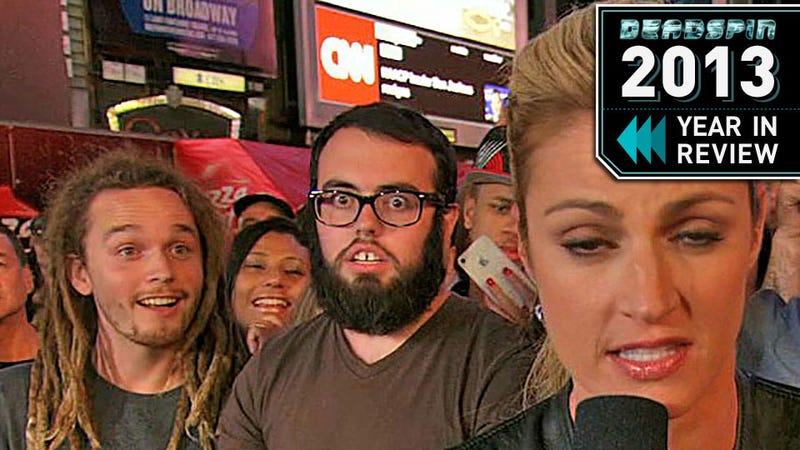 We pride ourselves on trying to provide you with quality video of important or unique moments that are, usually, sports-related. 2013 was a big year for that at Deadspin; our top 11 videos accumulated more than three million views, or 20% the average audience for an episode of Two And A Half Men.
Here are the 11 videos you considered your favorites of 2013. As always, we encourage you to let us know when you see something interesting on TV by tweeting or emailing us.
A.J. Clemente's first night as a news anchor for KFYR in Bismarck didn't go so well. (405,763 views)
NASCAR Nationwide driver Kyle Larson escaped serious injury when his car tore through a catch fence at the finish line in Daytona. Debris from the wreck left many spectators not so lucky. (405,007 views)
Fox affiliate KTVU claimed to have the names of the Asiana 214 flight crew. They didn't. (362,327 views)
Steubenville partygoer Michael Nodianos jokes about a rape victim. (335,229 views)
"[W]e need to try to figure out how to create educate better so we can solve this problem. Thank you." (331,113 views)
A loser in a Wayne Chrebet jersey punches a woman in the head at MetLife Stadium. (249,905 views)
It was the moment that launched Webb's career from obscure college football quarterback girlfriend to nationally-recognized model and reality show competitor. (244,849 views)
It's one of the most memorable moments in NCAA tournament history, and for all the wrong reasons. Ware has fortunately made a full recovery. (221,958 views)
CBS cameras caught a fan falling out of the upper deck in Buffalo live. (198,417 views)
LeBron performs a spectacular dunk during pregame warmups. (151,882 views)
The FGCU Eagles captured our attention in March with their unprecedented run to the Sweet 16 and their high-flying Dunk City showtime manner of play, something we've never seen before from a 15-seed and likely never will again. (138,774 views)
Note: YouTube videos are obviously excluded since we've no way of measuring how many views Deadspin readers accounted for. Videos that were part of a larger post not centered around the video (i.e. the Te'o or Boston bombing stories) were also excluded.