Who wants to read some internal emails that make the NCAA look incompetent, reactionary, and completely unable to justify its own authority?
Newly released emails, acquired by Onward State, show NCAA administrators bickering and debating in the wake of Penn State's Jerry Sandusky scandal, and reveal that no one was quite able to figure out the proper punishment for the university or even if the NCAA had jurisdiction to punish PSU at all.
They show that the eventual sanctions, which included fines, scholarship reductions, and a postseason ban, were characterized by former NCAA Vice President of Enforcement Julie Roe Lach as a "bluff," while NCAA Vice President of Academic and Membership Affairs Kevin Lennon figured the only reason Penn State would accept the sanctions was because the school was "so embarrassed they will do anything."
The documents were revealed by a lawsuit filed by Pennsylvania State Senator Jake Corman, who's trying to ensure the $60 million from the university's NCAA-imposed fine is spent on local programs instead of nationally. Aside from these, Corman has asked a judge to review 477 separate documents that the NCAA has refused to turn over.
Here are the emails between Roe Lach and Lennon where they think through some of the problems with their planned sanctions, including their doubts about the NCAA's jurisdiction and whether or not there was a competitive advantage in not being caught until now. Emphasis is ours.
On Jul 14, 2012, at 10:02 PM, "Lennon, Kevin" <klennon@ncaa.org> wrote:

Julie,

Sending this to you only to get a sense of how off I am on what I see transpiring with our internal group. I feel like it is a bit of a runaway train right now and am a bit concerned on a couple fronts. I most certainly will share these thoughts with the group if some of it makes sense. I want to make sure I am providing the best counsel possible and know you do as well.

So I am taking a quick check with you. No need to respond quickly, just food for thought. In no particular order:

The more penalties and sanctions placed on school, conference, other members, the less likely they will agree. I know we are banking on the fact school is so embarrassed they will do anything, but I am not sure about that, and no confidence conference or other members will agree to any of that. This will force jurisdictional issue that we really don't have a great answer to that one….
Whatever action we take against PSU will require us to answer the immediate follow up questions as to what this means for the next case- scope and reach of ethical dilemmas that will take many forms. Don't we need to have an answer for this before we do something with PSU?
Delicate issue, but how did PSU gain a competitive advantage by what happened? Even if discovered, reported, and actions taken immediately by the administration, not sure how this would have changed anything from a competitive advantage perspective.
As for idea to bring Judge Freeh, I thought the key response from our end is to wait to hear from PSU? I feel like to do otherwise with any action (like this) will invite what else the NCAA is doing now? Like are you sending enforcement representatives in now, and if not, why not?
I feel we have not spent enough time on membership input/ counsel/ reaction/direction and spending more time on media input. I understand not everyone in our membership will agree with any direction we take, but coming off our last round of problems, best to eliminate at least one complaint and that is that national office was not in touch with membership. I know Mark has call scheduled, but think we need more time on this part of our discussions.

Appreciate reactions and comments when you get a chance. Phone call is easier. And no reason for anything this weekend. And you can certainly take a pass on commenting all together.

I also know how important July is for you and your family. And this most certainly takes precedent. Please know I am praying for you, your sister, and family and sorry if this message is but another intrusion.

Keep the faith.

Your friend,

Kevin
Roe Lach's response:
Kevin,

All your points are sound to me.

[Redacted]

I keep going back to the three questions I raised Friday before the call to try to frame thie issue.

Regarding your third point, I think Mark believes based on conversations with some presidents that PSU did gain an advantage although Berst, Wall and I disagree with that point. The point some have made is that had PSU dealt with this in 2001, they might have suffered a recruiting disadvantage due to the bad publicity at that point. Given that they have a decent recruiting class now, not sure this holds up.

I characterized our approach to PSU as a bluff when talking to Mark yesterday afternoon after the call. He basically agreed b/c I think he understands that if we make this an enforcement issue, we may win the immediate battle but lose the war when the COI has to rule. I think he is okay with that risk.

I need to think about point no. 4 some more. I think we are waiting on PSU to respond- you are right, but I don't know that it precludes us from gathering info on our own to adequately assess the response.

Point no. 5 is a good one. Seems like the conferences and ADs are not part of the discussion, as well as the majority of presidents. I think the presidents are feeling public pressure and allowing that to raise the viability question which is not one of my big three. I am hopeful the call with the larger group next week will give a broader perspective.

I would appreciate talking with you. Possibly tomorrow afternoon? or early tomorrow morning? (Halle gets up around 6:30).

Here's where I am. I still think there is credibility in saying: 1) we could try to assert jurisdiction on this issue and may be successful but it'd be a stretch. I have thought more about this- we could make the control argument based on ethical failures by senior leaders and I think it's reasonable and logical, just not sure the COI (and the IAC) would agree 2) in this case, we reached an agreement with PSU resulting in significant penalties being imposed along with corrective actions; 3) ideally (and going forward), we need to be able to be a force when a general lack of integrity exists and there should be no ambiguity on that point; 4) in terms of our future positioning, we are appointing a blue ribbon group to develop the right approach to helping our members establish standards/expectations so as to ensure they don't have a cultural failure and abandonment of integrity. We also need a means of accountability for the Association to assert, if God forbid, some similar situation ever arises again.

To your point, we want the agreement to be strong (my point no. 2) but are going to have to be flexible in negotiating that with PSU.

I don't think I've said anything new here but hopefully it helps us both think through this to get to the right answer.

Sent from my iPad
Here, Roe Lach and Bob Williams, the NCAA's VP of Communications, discuss how exactly to phrase the justifications for punishing Penn State:
On Jul 21, 2012, at 11:57 AM, "Williams, Bob" <bwilliams@ncaa.org> wrote:

Good point Julie...how does this sound?

INDIANAPOLIS — By perpetuating a "football first" culture that ultimately enabled serial child sexual abuse to occur, The Pennsylvania State University leadership failed to value and uphold institutional integrity, resulting in a breach of the NCAA Constitution and rules.

Thanks, Bob

Bob Williams

Vice President of Communications

The National Collegiate Athletic Association
Roe Lach's response:
that gets it.

a few thoughts about vacation as a penalty- to separate from the competitive advantage argument.

1) vacating records is a penalty available to the NCAA just like post-season bans, scholarship reductions, fines, etc.

2) in this case, vacation of the wins is the right move because…

Penn State had great success on the field from 1998-2012 and those wins were based on a pristine image which was a lie. As a result, those wins need to be taken away.

Not said very well, but hopefully it helps.

Sent from my iPad
Besides the fact that these documents reveal the NCAA knew exactly how much of an over-extension of power its punishments were, the clearest distillation that the association had no business getting involved are the justifications. In a case involving the systematic grooming and rape of children, the NCAA fell back on the language of competitive advantages for a football team. Apparently there really is no problem the amateurism police can't fix.
G/O Media may get a commission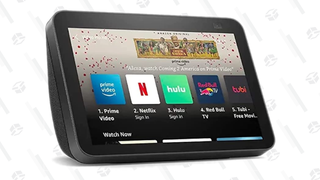 You can read the entire document below.