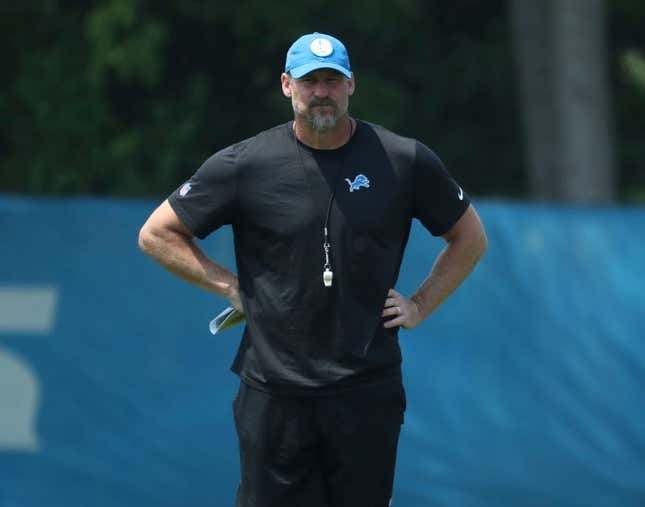 As his Detroit Lions opened training camp on Sunday, coach Dan Campbell cautioned it's time to start work and tone down the buzz around his team
How running an NFL team is like running a restaurant | Chef Emeril Lagasse
Fueled by a combination of their appearance on "Hard Knocks" last preseason, a charismatic head coach in Campbell and a young roster than won eight of the final 10 games in 2022, the Lions have become a fan favorite across the country as the new season approaches
Even the sports books have bought into the Lions, with BetMGM offering Detroit at +2000 to win Super Bowl LVIII. This time of year, there's usually another "0" at the end of that betting line
"I think as always, the thing that's gonna worry you is the hype train," Campbell said at camp in Allen Park, Mich., per ESPN. "I mean, as with most coaches, this thing is just taking off and it's out of control right now and that's fine, as long as we stay focused on the job at hand and the work. I just keep going back to that. We've got to put the work in and earn it."
The Lions won four NFL championships, the last of them coming in 1957, but are one of just four teams -- the Cleveland Browns, Houston Texans and Jacksonville Jaguars the others -- never to play in a Super Bowl. Since 1993, they've made the playoffs eight times and lost in the wild-card round each year
But this year, they are the betting favorite to win the NFC North. Campbell said it's his job to remind the Lions they have work to do
"I think you just keep the message consistent, and you call it what it is, and it just goes back to the work," Campbell said. "And when you see it not going that way or we have some guys that are deviating a little bit, or they think they've arrived and they haven't, you call them out on it."
Quarterback Jared Goff, who played in Super Bowl LIII with the Los Angeles Rams, said Campbell is good at keeping the locker room humbled and that the attention surrounding the team hasn't been earned. Yet.
"I think it's funny to me that like you go 9-8, you don't make the playoffs and now you're all of a sudden the favorite," Goff said, per ESPN. "Of course, we've got good players, we've got good coaches, we've got a good team, but we haven't done anything.
"We have a lot of work to do. Minnesota won 13 games last year, Green Bay's won the division a handful of times in the last handful of years, so we've got some work to do to put the stamp on who we want to be and are nowhere near that yet, but are on our way."
The Lions will be put to the test immediately when they open the season Sept. 7 on the road against the reigning Super Bowl champion Kansas City Chiefs. It's the first of four games for the Lions in prime time, in addition to their annual Thanksgiving game
--Field Level Media