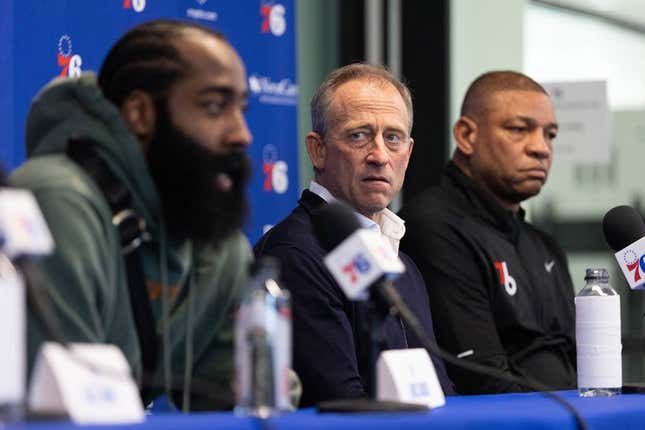 The long-awaited sale of the Washington Commanders finally is at hand
Though the transaction is not yet complete, owners Dan and Tanya Snyder "have entered into a purchase and sale agreement" to sell the Commanders to a group led by hedge fund manager Josh Harris, the parties jointly announced Friday
The reported price tag of $6.05 billion would break the record for the most expensive team purchase in North American sports.
"We are very pleased to have reached an agreement for the sale of the Commanders franchise with Josh Harris, an area native, and his impressive group of partners," the Snyders said in a statement. "We look forward to the prompt completion of this transaction and to rooting for Josh and the team in the coming years.
The sale will mark the end of Snyder's tumultuous and controversial time owning the franchise, which was once considered one of the jewels of the NFL.
ESPN reported earlier Friday that as a condition of sale, Snyder wanted assurances from the league that a full investigative report into his activities as owner would not be made public. It was not immediately clear whether that was agreed upon.
Attorney Mary Jo White conducted an investigation into allegations of both sexual misconduct and financial improprieties under Snyder's watch, and NFL commissioner Roger Goodell has publicly vowed the report would be made public.
This is the second recent major investigation into Snyder. Only limited portions of the investigative report overseen by attorney Beth Wilkerson were released in July 2021, at which time Snyder was fined $10 million and forced to cede day-to-day control of the team to his wife, Tanya.
While Snyder owned the team, it underwent two name changes -- from "Washington Redskins," using a term widely regarded as a slur toward Native Americans, to "Washington Football Team" to the Commanders, despite Snyder vowing in 2013 that he would never change its name
The franchise went 164-220-2 and won two playoff games in six berths during Snyder's ownership. Now, it is set tol begin a new era under Harris, whose Harris Blitzer Sports & Entertainment owns the NBA's Philadelphia 76ers and NHL's New Jersey Devils.
The investment group reportedly includes D.C.-area billionaire Mitchell Rales, Colombian financier Alejandro Santo Domingo and Basketball Hall of Famer Earvin "Magic" Johnson.
--Field Level Media