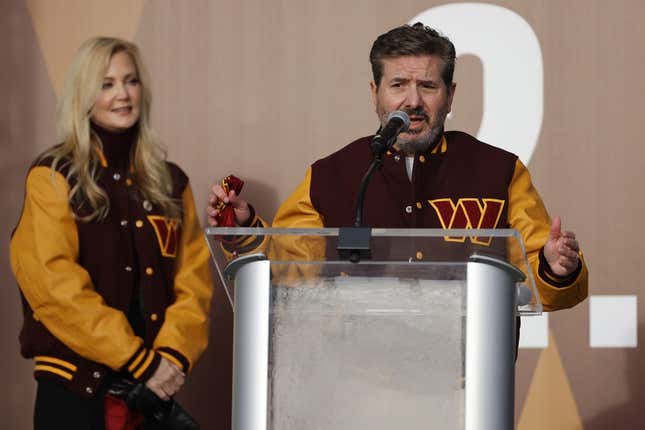 Dan Snyder will pay the NFL $60 million in fines after an investigation by Mary Jo White found he was complicit in both sexual misconduct and financial improprieties during his time as owner of the Washington Commanders
Is Texas or Florida State a bigger national title contender? | Agree to Disagree
The findings of White's investigation, which began in February 2022, were released Thursday afternoon shortly after NFL team owners approved the $6.05 billion sale of the Commanders to billionaire Josh Harris with a unanimous 32-0 vote
"We appreciate the diligence, thoroughness and professionalism of Ms. White and her team throughout this process," NFL commissioner Roger Goodell said in a statement. "We pledged to share her findings publicly and are doing so today."
White, the former chair of the Securities and Exchange Commission, found evidence that Snyder sexually harassed a former Commanders team employee, Tiffani Johnston. The former cheerleader and marketing manager testified to Congress last year that Snyder put his hand on her thigh and pushed her toward his limo at a work-related dinner
The league expanded the scope of White's investigation beyond harassment and workplace culture to financial improprieties in April 2022. A former sales executive for Washington, Jason Friedman, told Congress that Snyder had the team withhold its true amount of shareable revenue meant to be split with other teams.
White's investigation found that $11 million in revenue was "improperly shielded" from other teams and a "significant portion" of another $44 million in revenue was illicitly moved from shareable to non-shareable accounts.
White's team interviewed Snyder remotely on June 29 after the unpopular team owner previously declined to be interviewed, the Washington Post reported.
White delivered her findings to team owners Thursday at a hotel in Bloomington, Minn., where the owners met to vote in Harris.
The principal owner of the NBA's Philadelphia 76ers and NHL's New Jersey Devils led an investment group that bought the Commanders for a record $6.05 billion
--Field Level Media