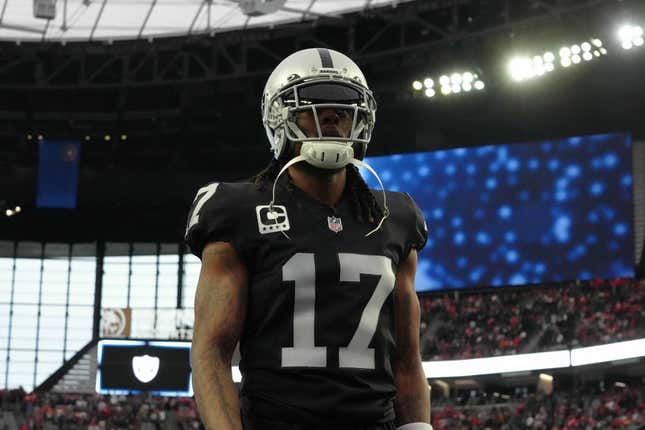 Las Vegas Raiders star wideout Davante Adams feels he's proven that he is his own person -- not defined by the quarterback throwing the ball to him, he told The Ringer in an interview published Tuesday
Bass' ERA stinks, but not compared to who he is off the mound | Worst of the Week Countdown
The longtime Green Bay Packers teammate of Aaron Rodgers was traded to the Raiders before the 2022 season after the sides could not agree to a long-term contract. Catching passes from former college teammate Derek Carr instead of Rodgers, Adams earned his sixth straight Pro Bowl nod and third straight All-Pro selection. He recorded 100 receptions for 1,516 yards and a league-high 14 touchdowns
Adams told The Ringer that Rodgers is "a hell of a quarterback" and said there remains a mutual respect between the former teammates. But to be named All-Pro without Rodgers throwing him the ball -- and receiving much of the credit -- meant a lot to Adams.
"It proved that I am me," Adams said. "A quarterback doesn't make me. ... I make me. And I can do it consistently at this level."
"That's why (last) season meant a lot. Even if I went and played like dog (expletive) next year, they can't say it. Because now I've already proved it throughout the course of a season, played every game, and put together a resume that says I do not need ...
"You can erase all the numbers. You can just write in: He didn't need Aaron Rodgers."
Adams apparently wouldn't have minded reuniting with Rodgers, either. Las Vegas released Carr this winter and needed a quarterback, with Rodgers linked as a potential fit.
"I would even go as far as trying to make it happen," Adams told The Ringer.
But it didn't happen, and Jimmy Garoppolo will be the Raiders' starting quarterback in 2023
In nine NFL seasons with the Packers (2014-21) and Raiders, Adams has tallied 769 receptions, 9,637 receiving yards and 87 touchdowns over 133 games (126 starts). He was Rodgers' favorite weapon in Green Bay for years, as a narrative formed over time that the Packers weren't doing enough to add to Rodgers' arsenal and complement Adams
Rodgers' new team, the New York Jets, will visit the Raiders on "Sunday Night Football" on Nov. 12
--Field Level Media