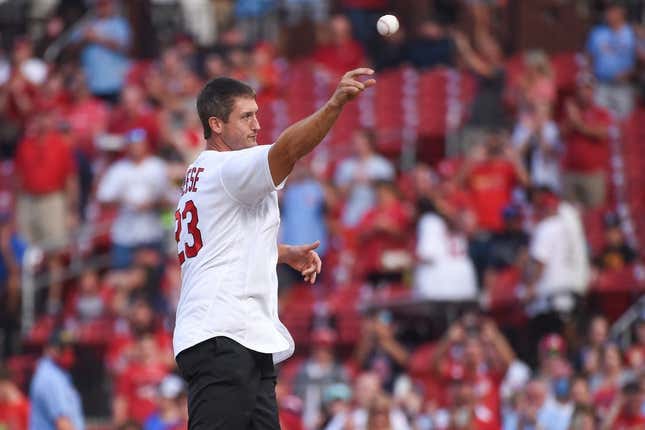 St. Louis Cardinals 2011 postseason hero David Freese has declined induction into the franchise's Hall of Fame
How running an NFL team is like running a restaurant | Chef Emeril Lagasse
The team announced Saturday that they have granted his request.
Freese, 40, was elected to the hall's Class of 2023 by fan voting last month along with Jose Oquendo and Max Lanier.
Freese said his decision "weighs heavily" on him but that he did not feel deserving of the honor.
"This is something that I have given an extreme amount of thought to, humbly, even before the voting process began. I am aware of the impact I had helping the team bring great memories to the city I grew up in, including the 11th championship, but this honor means more to me.
"I look at who I was during my tenure, and that weighs heavily on me. The Cardinals and the entire city have always had my back in every way. I'm forever grateful to be part of such an amazing organization and fan base then, now and in the future. I'm especially sorry to the fans that took the time to cast their votes. Cardinal Nation is basically the reason why I've unfortunately waited so long for this decision and made it more of a headache for so many people. I feel strongly about my decision and understand how people might feel about this. I get it. I'll wear it. Thank you for always being there for me, and I am excited to be around the Cardinals as we move forward.
Cardinals owner Bill DeWitt Jr. also issued a statement
"Although we are disappointed that David has declined to be inducted into our Hall of Fame, we respect his decision and look forward to celebrating his great Cardinals career in other ways going forward. He is always welcome at Busch Stadium.
Freese played third base for St. Louis from 2009-13, batting .286 with 44 home runs and 237 RBIs in 466 games.
He made the All-Star team in 2012 but is largely remembered for his heroics in October 2011. He was named the Most Valuable Player of both the National League Championship Series win against the Milwaukee Brewers and the World Series triumph over the Texas Rangers.
Freese batted .545 with three homers and nine RBIs in the six-game series against Milwaukee and .348 with one homer and seven RBIs in the seven-game series against Texas.
In Game 6 against the Rangers, the Cardinals were down to their final strike when he tied the game with a two-run triple. He won the game in the 11th inning with a walk-off home run
Fresee later played for the Los Angeles Angels (2014-15, Pittsburgh Pirates (2016-18) and Los Angeles Dodgers (2018-19). He retired with a .277 batting average, 113 homers and 535 RBIs in 1,184 games.
--Field Level Media