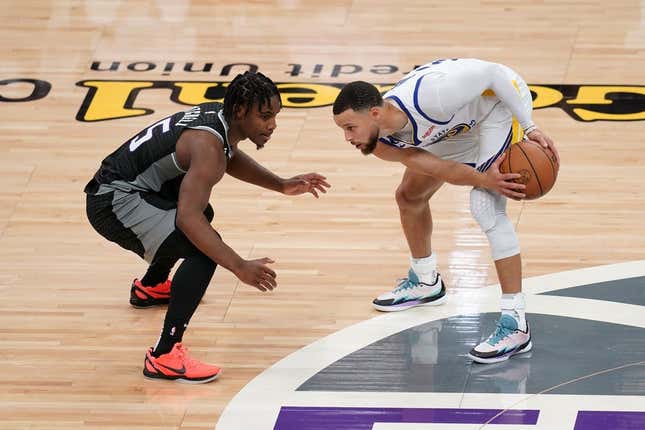 De'Aaron Fox scored a game-high 38 points in his NBA postseason debut and teamed with Malik Monk for 28 fourth-quarter points as the Sacramento Kings edged the visiting Golden State Warriors 126-123 on Saturday night in Game 1 of their Western Conference first-round series
Aaron Rodgers should go full Joe Namath | Comedian Bert Kreischer
The game marked the Kings' return to the playoffs for the first time in 17 years. Game 2 in the best-of-seven series is scheduled for Monday night, also in Sacramento
The Warriors led for most of the first three quarters, and by as many as 10 points, but when the Kings went almost exclusively to Fox and Monk in the fourth, they responded
Fox gave the Kings the lead for good at 115-114 with a 3-pointer with 3:50 to go, and when Harrison Barnes bombed in a trey of his own shortly thereafter, the hosts had opened a six-point gap with just 2:35 to go
But the Warriors, the defending NBA champions, got a driving hoop and a 3-pointer from Stephen Curry to close within 123-121 with 1:19 to play, then got possession of the ball, down by one, in the final half-minute
However, Andrew Wiggins, playing for the first time following a 25-game absence for personal reasons, misfired on a wide-open 3-pointer from the left corner with 10 second left.
Monk capped a 32-point performance off the bench with two free throws with 2.9 seconds to go, and when Curry misfired on an open straight-away 3-pointer at the horn, the Kings celebrated a win in their first-ever playoff game against their Northern California rival
Fox shot 13-for-27 from the field and added five assists and three steals, while Monk did much of his damage at the foul line, going 14-for-14 to complement an 8-for-13 night from the field.
Trey Lyles added 16 points, Barnes 13 and Domantas Sabonis 12 with a game-high 16 rebounds for Sacramento, which earned the No. 3 seed in the West -- and home-court advantage -- by winning the Pacific Division title.
Curry finished with 30 points and Klay Thompson 21 for the Warriors. Curry shot 6-for-14 on 3-pointers and Thompson 5-for-14, but Golden State was just 16-for-50 (32 percent) as a team
Wiggins and Jordan Poole had 17 points apiece and Donte DiVincenzo 10 for Golden State, while Draymond Green chipped in with a game-high 11 assists and nine rebounds.
The Warriors outshot the Kings 47.8 percent to 44.9 percent overall, but Sacramento held a 50-41 advantage on the boards and a 26-21 edge in free-throw points
--Field Level Media