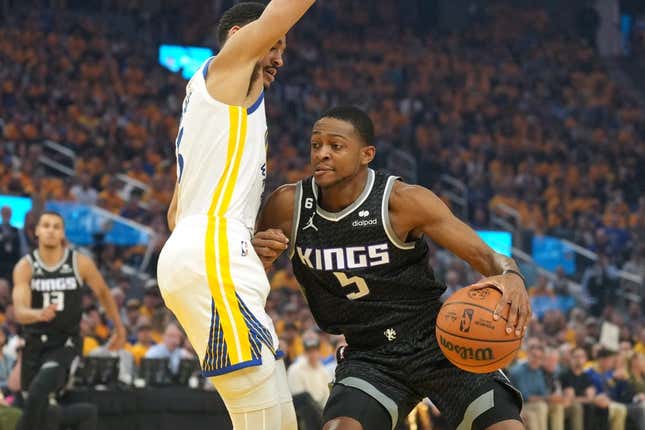 De'Aaron Fox is "99, 100 percent" sure he will play in Game 5 of the Sacramento Kings' first-round Western Conference playoff series Wednesday night against the visiting Golden State Warriors
Are the Oakland A's a failed state? | Agree to Disagree
Fox sustained a fractured index finger on his left hand, which is his shooting hand, during Game 4 on Sunday.
Reports had initially said Fox would be listed as doubtful for Game 5, but Fox was certain he would be on the floor for his team with the series tied 2-2.
"There's no ifs, ands or buts, I'm playing," Fox told reporters after practice Tuesday.
He said the injury occurred when both Jordan Poole and Andrew Wiggins took a swipe while he was driving in the lane toward the hoop.
Fox wore a splint on the finger Tuesday and was seen shooting with it on.
"What I'm wearing, I think the big thing for me was, could I feel the pad of my finger?" Fox said. "If you're playing basketball, you're throwing the ball, you want to be able to feel the ball at your finger, so that was a big thing for me. And it's protecting what it needs to protect."
Through four games in the series, Fox is averaging 31.5 points, 7.0 assists, 6.0 rebounds and 2.5 steals.
A first-time All-Star in 2022-23, Fox also became the first winner of the NBA's Clutch Player of the Year award.
Fox, 25, averaged 25.0 points, 6.1 assists and 4.2 rebounds in 73 starts in the regular season and guided the Kings to their first playoff appearance since 2005-06, snapping the longest playoff drought in the four major professional sports leagues
--Field Level Media