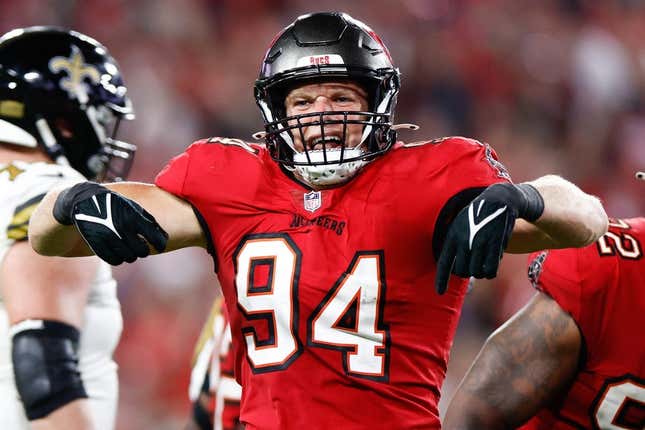 Defensive end Carl Nassib, the NFL's first openly gay active player when he came out in 2021, plans to retire.
How running an NFL team is like running a restaurant | Chef Emeril Lagasse
Nassib said Wednesday on social media that he will shift his focus to Rayze, the app he launched to connect people with the 1.8 million nonprofit organizations in the network that need volunteers or donations.
"This would have been my 23rd football season," Nassib confirmed in an interview with People. "I've been playing football since I was 8 years old, and I'm really excited to move on to the next chapter of my life."
A former walk-on at Penn State, Nassib was the 65th overall pick in the 2016 draft by Cleveland. He played in 99 games over seven seasons with the Browns (2016-17), Las Vegas Raiders (2020-21) and two stints with the Tampa Bay Buccaneers (2018-19, 2022).
Nassib, 30, said he will miss the persistent pursuit of excellence required in the NFL, where "you have to earn your keep every single day."
"Football has given me more than I ever could have imagined. I can truly hang up my helmet for the last time knowing I gave it everything I had."
Nassib said the league is interested in maintaining a connection in a to-be-determined role that will not interfere with his work as CEO of Rayze.
"Maintaining that relationship shows that the NFL is continuing to support me. They've supported me so much over the last two years, and I really couldn't have done it without that support," he told People.
With the Raiders in 2021, Nassib made the decision to make his sexual preference public for the first time. He said he was positive no one "would really care."
"But it was just such a good feeling to have all that support," he said.
Nassib said that he hatched the idea for Rayze while with the Buccaneers and doing community work at a juvenile detention center.
"Now, partnering with Volunteer Match, we will have over 80,000 volunteering opportunities on Rayze later this year," Nassib said.
—Field Level Media