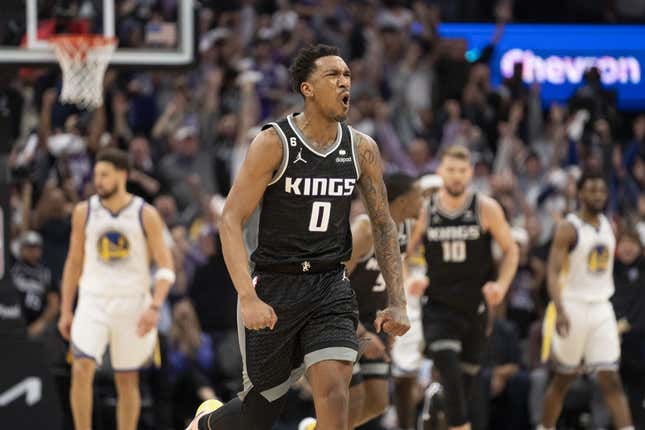 De'Aaron Fox scored 11 of his team-high 24 points in the fourth quarter and fed Harrison Barnes for a tie-breaking dunk with 5:14 remaining, delivering the host Sacramento Kings a second straight win over the Golden State Warriors, 114-106 Monday night in a Western Conference first-round playoff game
Air Jordans are more American than McDonald's French fries | Deon Cole's Ultimate Sports Fantasy
The contest featured the ejection of Golden State's Draymond Green for stomping on Domantas Sabonis.
The scene shifts to San Francisco for Games 3 and 4, beginning Thursday night with the defending champions down 2-0 in the best-of-seven series.
The Kings took an eight-point lead into the final period but saw Stephen Curry lead Golden State into a 95-all tie with a driving layup with 5:22 to play
Fox then found Barnes in the Green-less Golden State interior for a hoop that not only gave Sacramento the lead for good but triggered a 19-11 finish.
The key hoop occurred two minutes after Green and Sabonis got entangled under the Golden State basket, with Sabonis hitting the floor after a bump from Klay Thompson. Sabonis then grabbed Green's leg as he attempted to get by, and the Warriors forward proceeded to slam his foot into his rival's chest, resulting in a flagrant foul 2 and immediate ejection
Sabonis also was assessed a technical foul on the play, which occurred with the Kings leading 91-87
The Warriors made a late push to get within 102-101 with 3:10 left after successive Thompson 3-pointers. However, Sabonis snatched a Fox miss and dropped in a follow shot, and when Fox buried a 3-pointer on the Kings' next possession, all of a sudden the hosts had breathing room again at 107-101
Fox also found time for a game-high nine assists. Sabonis finished with 24 points and a game-high nine rebounds for the Kings, the Pacific Division champs who are seeded higher (third) than the defending champs (sixth) in the postseason
Malik Monk chipped in with 18 points, Kevin Huerter 15, Davion Mitchell 14 and Barnes 13 for the Kings, who used a 12-9 advantage on the offensive boards and 22 Golden State turnovers to get up 10 more shots than the visitors
Curry overcame a 3-for-13 night from beyond the 3-point arc to put up a game-high 28 points along with a team-high six assists for the Warriors, who last season responded to all six of their postseason losses with wins en route to the title
Andrew Wiggins had 22 points, Thompson 21 and Gary Payton II 13 for the Warriors, who lost despite outscoring the Kings 36-27 from beyond the arc
--Field Level Media