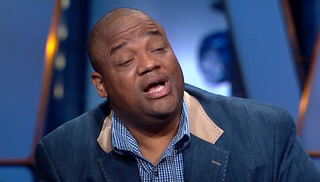 Earlier this week, our own Greg Howard posted a lengthy exposé on noted couch tormentor Jason Whitlock and his ESPN-backed vertical, The Undefeated. One Whitlock fanboy on Twitter got pretty worked up over that post… or is he MORE than a Whitlock fanboy? It's a mystery that can only be solved via Deadcast…

Anyway, the account in question, @TwhitlockJason, has been around for years and is often pimped by Whitlock personally. Here's some of the shit Twhitlock tweeted after Greg posted his thing…
And here is Whitlock praising his fanboy:
A tipster claims that Whitlock created that account, and uses it to make jokes (or whatever Whitlock considers jokes) and for all the things he can't say from his own account, which seems odd given that Whitlock gladly tweets out stupid shit from his own feed all the time. Marchman doesn't think it's him. I think it is. We argued. And we did some dramatic reading from The Undefeated's playbook. I have included chewing noises to make my depiction of Whitlock more accurate.
If you have anything you'd like to hear discussed on the revived podcast, just send it in to tips@deadspin.com with the subject line DEADCAST. You can listen to the show here or download it over at the iTunes store.