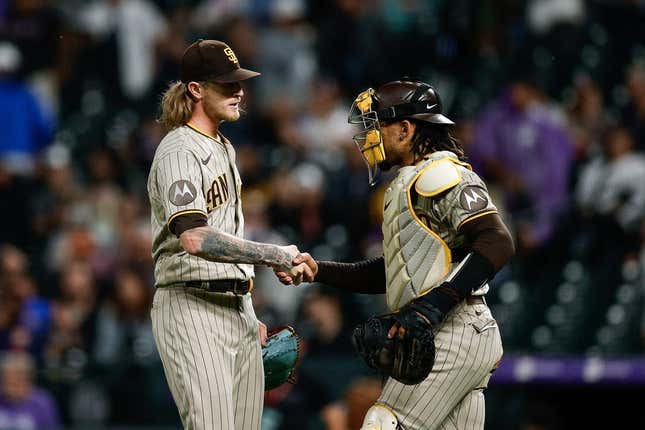 The San Diego Padres decided Tuesday that they are still part of the postseason chase
How running an NFL team is like running a restaurant | Chef Emeril Lagasse
An underachieving team over the first four months of the season, the Padres received reinforcements and have their eyes on making a playoff push as they enter the rubber match of a three-game series against the Colorado Rockies on Wednesday in Denver
San Diego didn't add a big name at Tuesday's trading deadline but added four veterans: left-hander Rich Hill and first baseman Ji Man Choi from the Pittsburgh Pirates, first baseman Garrett Cooper from the Miami Marlins and right-handed reliever Scott Barlow from the Kansas City Royals
The club's big splash at the 2022 deadline, Juan Soto, was the hero later Tuesday with two homers and four RBIs in San Diego's 8-5 win over the Rockies. It was Soto's third multi-homer game of the season and the 15th of his career
Soto made it clear afterward that everybody's focus is on returning to the postseason. The Padres lost to the Philadelphia Phillies in five games in last season's National League Championship Series
"We have to just keep playing baseball," Soto said. "I hope those (new) guys have the same energy. We're going out there to play hard, that's the main thing right now. I hope they bring that, too.
The Padres didn't subtract from their major league roster as they traded six minor-leaguers in the three deals -- the most prominent veteran being left-hander Ryan Weathers, who went to the Marlins
Perhaps most pleasing to the players was that left-hander Blake Snell and closer Josh Hader weren't sent packing. Both players are free agents after the season
"We have been playing better baseball over the last week or so," Padres right-hander Joe Musgrove said of the front office's decision to be buyers instead of sellers. "Having these (new) guys for the last two months with enough time to gain ground and get back in this mix feels good.
San Diego manager Bob Melvin said he hopes that Choi can bolster the squad's lackluster pinch-hitting (.113, 8-for-71)
Colorado was relatively quiet at the deadline. The Rockies traded left-handed reliever Brad Hand to the Atlanta Braves for Double-A right-hander Alec Barger and acquired left-hander Justin Bruihl from the Los Angeles Dodgers for cash considerations
Ryan McMahon homered and drove in four runs in the Rockies' Tuesday loss. He also went in Colorado's series-opening win on Monday and has three straight two-hit games
However, his heroics couldn't prevent Colorado from losing for the fifth time in seven games
"Soto got us a couple times there with pitches up over the plate," Rockies manager Bud Black said
Musgrove was scratched from his scheduled start Wednesday due to right shoulder soreness
San Diego will turn to the bullpen with reliever Nick Martinez (4-4, 3.93 ERA) starting the series finale. Martinez is 0-2 with a 5.46 ERA in 12 games (four starts) in his career against the Rockies
Colorado left-hander Kyle Freeland (4-11, 4.79 ERA) is in a downward spiral with seven consecutive losing decisions entering his Wednesday outing. Freeland is winless in 11 starts since defeating the Philadelphia Phillies on May 14
Freeland lost to the Oakland Athletics on Friday when he gave up five runs (three earned) and nine hits over four innings
Freeland is 1-0 with an 0.82 ERA in two starts against San Diego this season. He's 7-6 with a 4.28 ERA in 22 career appearances (20 starts) vs. the Padres
Trent Grisham (6-for-24) has three homers off Freeland. Manny Machado (14-for-44), Fernando Tatis Jr. (7-for-21, one homer) and Ha-Seong Kim (5-for-16) have also fared well vs. the 30-year-old veteran
--Field Level Medi