Welcome to the Deadspin 25, a college football poll that strives to be more democratic and less useless than every other preseason poll. Leading up to the college football season kickoff, we will give you previews of the 25 teams that you, the readers, voted to be most worthy of writing about. Now, No. 20 Stanford.
Last year was not a good one at Stanford, as the Cardinal offense sputtered its way through the season and handed Oregon the Pac-12 North. Most of Stanford's 2014 woes came from an offense that couldn't do anything against real competition. A 31-10 win at UCLA marked the only occasion where Stanford managed to scare more than 17 points against a ranked opponent. But, as Cardinal fans will be quick to tell you, this year will be different. Things will be better. And they aren't wrong. Kind of.
Quarterback Kevin Hogan is back under center mainly because, well, Stanford really doesn't have any better options. His 2014 campaign wasn't great, as he tossed 19 touchdowns and eight interceptions while leading the team to an 8-5 record, failing to hit the 10-win mark for the first time during David Shaw's tenure as head coach. Hogan did impress in 2013, tossing 20 touchdowns in 57 fewer attempts, and even with an inconsistent 2014 and all the criticism that came with it, he can take solace in the strength of his returning offensive line.
The Cardinal still have some holes to fill on offense, but after failing to produce a 1,000-yard rusher for the first time since 2007, Stanford's problems up front should subsist for at least one more year. The squad has four seniors returning to start on the offensive line, and sophomore Casey Tucker will take over at right tackle. Sophomore running back Christian McCaffrey has been getting some love in the offseason, and should have better year than Remound Wright and Barry Sanders Jr. did last year. That's about where the good news ends for the offense.
Along with Hogan's struggles, the Cardinal also had a pretty dismal year in terms of wideout production. Only one receiver posted more than 600 yards in 2014, and that was Ty Montgomery, who is now not even on the team. Leading this year's charge will be Devon Cajuste, who was last year's No. 2 option. Behind him will be Francis Owusu, who caught just 11 passes for 138 yards and no scores in 2014. It's not that either of them are incapable of having a 600-yard year, they just aren't the type of players who will strike fear into Pac-12 defensive coordinators.
G/O Media may get a commission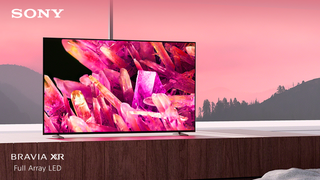 $400 off
Sony 55 Inch 4K Ultra HD TV X90K Series
The Cardinal defense was nothing short of amazing last year, holding teams to an average of 16.1 points per game to rank second in the nation. In a conference void of great defenses, Stanford rose above and really did its best to keep itself in games on the defensive side of the ball. In six games against ranked teams, the Cardinal held those opponents to an average of 21.8 points per game, and that's skewed by the 45-16 smackdown Oregon handed them.
The linebacking unit will be back and fairly strong this season, with Blake Martinez returning at inside backer. Martinez had 101 tackles and 4.5 sacks last year, and he'll line up beside Noor Davis, who will become a regular starter for the first time in his career when he returns from a lower leg injury. But the group will still be missing some standout players from last year's squad, including outside linebacker James Vaughter. Up front, the line will have to replace defensive end and 2014 sack leader Henry Anderson. Junior linebacker Peter Kalambayi should help shore up any shortcoming after notching 6.5 sacks and 9.5 tackles for loss last year. But if you're expecting the unit to put up the same numbers as 2014's defense did, don't hold your breath.
A Guy To Know
Running back Christian McCaffrey is indeed a guy to know, as he's the new starting tailback, but I'm not quite sure what to make of him. Yes, he came on strong late last year, but many folks are attaching a little bit too much hype to the true sophomore who rushed for an absolutely staggering 300 yards and zero touchdowns all of last season.
To be fair, he did do alright when he hit the field toward the end of 2014 and finished the year averaging 7.1 yards per carry. This year, behind an experienced—and hopefully better—offensive line, it's not hard to imagine him cracking at least 700 yards rushing. McCaffrey's a speedy little dude, and in a conference in which defense isn't exactly every team's specialty, he can be a threat out of the backfield.
Can They Make The Playoff?
The Cardinal should win 8-9 games this year, but no, they can't make the playoff. And here's why: their schedule is full of great offenses that are going to score, and they can't hang with all of them.
They have to go to USC, and host UCLA, Oregon, Arizona, and Notre Dame. I count at least three losses there. There's no escaping the fact that Hogan is an average quarterback who doesn't exactly have a ton to work with in his receiving corps. McCaffrey is good, but he's not Nick Chubb. He'll do fine in a Pac-12 stocked full of middling defense, but he's not going to put the team on his back.
The best shot the Cardinal have at coming out of that hellish schedule undefeated is if the defense loses its damn mind and just straight up shuts down every single team. But the thing is, you have to score to win, and unless the D holds all those great Pac-12 offenses to 10 points—like it did just one time last year—Stanford is coming away with a 9-3 regular season, at best. But that's nothing to be mad about.
Is The Coach A Dick?
David Shaw teamed up with maniac/good football coach Jim Harbaugh and helped him build some of college football's best offenses at the University of San Diego and then Stanford. He was there for two almost-Heisman winners in Andrew Luck and Toby Gerhart, and up until an off 2014, has been working his magic as the head coach. That being said, he up and left Heather Cox high after the Rose Bowl. "Are you kidding me?" Shaw is probably not a dick, but next time, don't stiff Heather.
Will Stanford Do It?
The Cardinal will make a better run at the Pac-12 North than they did last year, but ultimately, Stanford won't have what it takes to overcome its offense and difficult schedule.
Schedule
Sept. 5: @ Northwestern
Sept. 12: Central Florida
Sept. 19: @ USC
Sept. 25: @ Oregon State
Oct. 3: Arizona
Oct. 15: UCLA
Oct. 24: Washington
Oct. 31: @ Washington State
Nov. 7: @ Colorado
Nov. 14: Oregon
Nov. 21: California
Nov. 28: Notre Dame