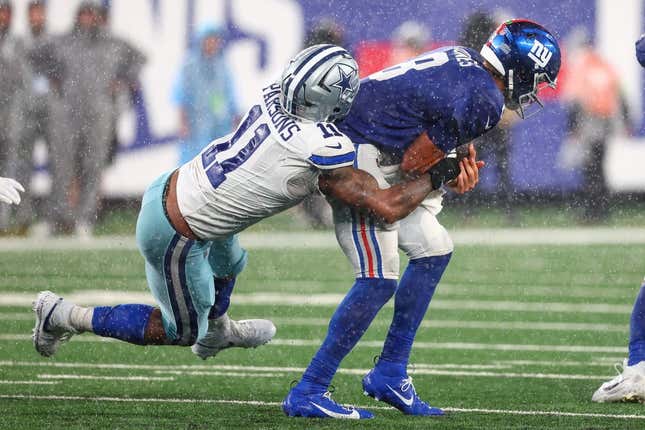 Aaron Rodgers' season-ending injury sent the New York Jets into a temporary darkness retreat, but head coach Robert Saleh proclaimed his team plans a revival behind a rugged defense and backup quarterback Zach Wilson.
How running an NFL team is like running a restaurant | Chef Emeril Lagasse
Wilson takes the reins as the Jets (1-0) head to Dallas to measure up to the Cowboys (1-0), who annihilated the Giants 40-0 in Week 1.
"Everyone believes in themselves," Saleh said of the Jets' mindset after losing Rodgers. "We believe we have a really good football team. Like I've said before, we have a championship defense. We've got great skill guys on offense, an O-line that's continuing to jell. And we've got great faith in Zach.
"I don't know if there's anything to say (about moving on from Rodgers). It sounds cliche. But it's next man up. Nobody cares. Sunday's coming. ... That's the harsh part of the business."
Wilson was the second overall pick in 2021 and started last season 5-1 before, in Saleh's estimation, the team around him deteriorated under the weight of injuries.
Flawed pass protection didn't help Rodgers in Week 1. A more resilient group leaning on running backs Dalvin Cook and Breece Hall is tasked with helping Wilson navigate enemy waters Sunday in his 23rd career start. Wilson is 8-14.
Dallas destroyed the Giants' offensive line with seven sacks and spent time advance scouting the defense because of similar personnel and the same coordinator. Head coach Mike McCarthy said he was planning to base some of the Cowboys' defensive game plan on what took place Monday, in addition to his 13 years with Rodgers in Green Bay.
Saleh's background is defense, and New York expects defensive end Carl Lawson to return after missing Week 1. He'll join the group that made Josh Allen look ordinary with four turnovers (three interceptions, one fumble) in the overtime win for the Jets.
Setting aside the personal attachment to Rodgers, McCarthy said the Cowboys are turning the page. But the defensive plan is more of the same — all-day pressure.
"Statistically, it's the best one I've ever been a part of," McCarthy said of the pass rush generating pressure on 63 percent of the Giants' snaps last week. "It was obviously a big part of setting the tempo. You could see this building the last three years and definitely felt it all throughout training camp."
Dallas had three takeaways and gave up 171 total yards to the Giants.
Hackett figures to counter the attacking front seven with a healthy dose of Cook and Hall. Hall had 10 carries for 127 yards in Week 1, plus a 20-yard reception.
Saleh said he doesn't micromanage players away from the field to know how Wilson has grown since being benched in 2022. But he said the energy and aura Wilson exhibits since Rodgers arrived are major differences between the lines. He's also counting on new offensive coordinator Nathaniel Hackett to bring out Wilson's best.
"This is not a reflection of the old staff, the coaches prior. But Hackett is the eternal optimist," Saleh said. "I've always argued a coach's No. 1 job beyond scheme and everything else is to make their players feel like they could walk on water. That's their job. He's one of those special coaches who have that ability."
"All three phases, Dallas is loaded," Saleh said. "It's not going to be easy."
—Field Level Media