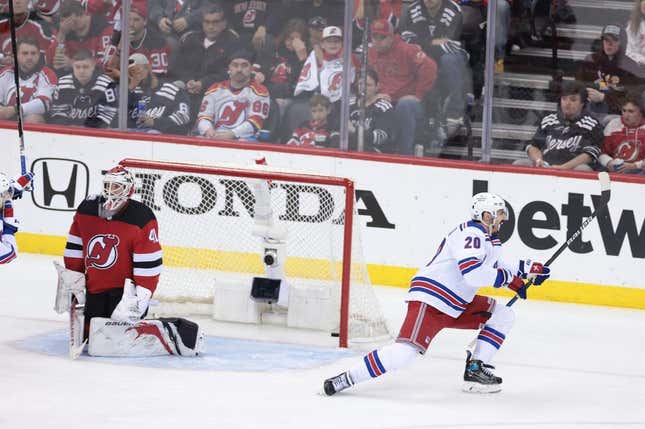 Chris Kreider scored two power-play goals and Patrick Kane tallied once in a three-point game to lead the New York Rangers to a second consecutive 5-1 victory over the New Jersey Devils in Game 2 of their playoff series on Thursday in Newark, N.J
Will South Beach Flu give the Heat home court advantage? | Keep it a Buck(et)
The Rangers will look to take a stranglehold on the best-of-seven, Eastern Conference first-round series when they play host to the Devils for Game 3 on Saturday
Vladimir Tarasenko and Kaapo Kakko also scored for the Rangers. Defenseman Adam Fox collected two more assists, giving him six through the first two games of the playoffs. New York goaltender Igor Shesterkin made 22 saves
Kreider became the first player in NHL history to score four power-play goals in the first two games of a playoff year.
Erik Haula recorded the lone goal for the Devils, who finished ahead of the Rangers in the regular-season standings. Goalie Vitek Vanecek stopped 25 shots
With the Devils holding a 1-0 lead, Tarasenko kicked off New York's three-goal second period 5:53 into the frame. Tarasenko took a drop pass from Fox and ripped a wrist shot through the screen for his second goal of the playoffs
Then it became the Kreider and Kane show. Kreider notched his first of the game when he was parked in front of the net and deflected Kane's long point shot on a power play just before the game's midway point.
The pair combined again six minutes later for another man-advantage marker. Kreider was at the side of the net and redirected Kane's shot-pass for his second of the game and fourth of the series.
Then it was Kane's turn to put his showtime skills on display to make it a 4-1 affair. Kane stole the puck in his own zone, raced down the ice and roofed a back-hand shot for his first of the playoffs at 6:34 of the third period.
Kakko extended the lead at 13:05 of the final frame when he zipped to the net and converted Filip Chytil's short pass for his first of the playoffs.
The Devils, who have been outscored 10-2 so far in the series, actually took a lead when Haula was on the spot for a loose puck to open the scoring on the power play at 11:44 of the first period
--Field Level Media