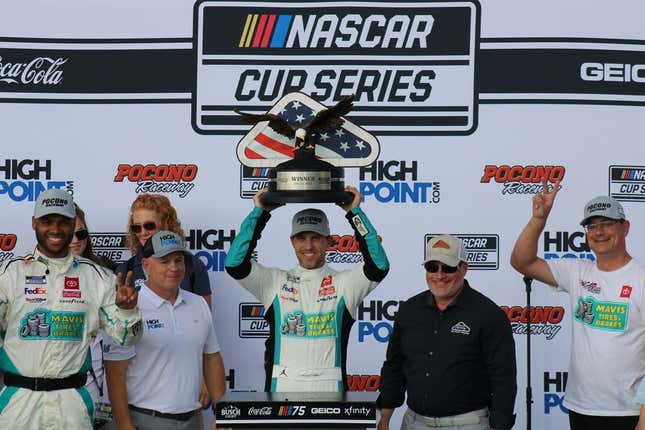 Despite all the booing at Pocono Raceway, Denny Hamlin was not in an apologetic mood Sunday afternoon.
Is Texas or Florida State a bigger national title contender? | Agree to Disagree
Hamlin held off Joe Gibbs Racing teammate Martin Truex Jr. in a three-lap dash to etch his name into the track's record book, winning the HighPoint.com 400 at Long Pond, Pa.
By fending off Truex and winning under the 11th caution period after Ryan Preece's spin, Hamlin was victorious for the seventh time at the 2.5-mile track.
That broke a tie with NASCAR Hall of Famer Jeff Gordon -- a six-time winner in the Keystone State -- and was Hamlin's second win of 2023.
It was the 50th career win for the native of Chesterfield, Va., who moved into a tie with Ned Jarrett and Junior Johnson for 13th in all-time NASCAR Cup Series triumphs.
However, it was his restart with seven laps to go that irked then-leader Kyle Larson.
Hamlin restarted third, got beside the Hendrick Motorsports driver and ran the No. 5 Chevy tight through Turn 1. Larson bounced off the wall, while Hamlin's No. 11 raced away with the lead.
"He missed the corner first, and evidently he didn't have his right-side tires clean," Hamlin said during a steady cascade of boos. "You have an option in those positions to hold it wide open and hit the fence or lift and race it out. ... I didn't touch (Larson)."
Larson disagreed.
"I've been cost a lot of good finishes by him throughout my career," said Larson, who was 20th. "I know he said I race a certain way, but I don't think I've ever had to apologize to him for anything.
"Yeah, we're friends, and this makes things (expletive) and awkward. ... But I am pissed, and I feel like I should be pissed."
Tyler Reddick, in second, Truex, Kevin Harvick and rookie Ty Gibbs rounded out the top five.
William Byron, who notched his third pole position this season, finished 14th.
After passing Byron, staying out late and recording his third win on Lap 30 to end Stage 1, Joey Logano restarted in a pack but immediately brought out the race's third caution on the ensuing restart.
The cars of Logano and Daniel Suarez made contact with others and were sent spinning into the Turn 1 wall. Suarez's No. 99 Chevrolet had front-end damage, but Logano's No. 22 Ford had to be towed back to the garage.
A winner from the pole at the odd-shaped track in June 2012, Logano failed to meet the minimum speed and finished 35th, one spot ahead of last-place Suarez.
With six laps left in Stage 2, Christopher Bell spun by himself exiting Turn 1, with his No. 20 Toyota receiving no damage. The pits remained closed, and Larson earned the bonus points by winning the second segment under caution.
In the 160-lap race's seventh caution and hardest hit on Lap 106, Austin Dillon spun off the nose of Reddick's No. 45 Toyota, sending Dillon's famous No. 3 Chevy hard into the Turn 1 wall.
Said Dillon, who fired his helmet at the No. 45 when it came by the next lap under caution, "I just need to start wrecking some people."
That set up the final 50-lap run to the checkers with Truex at the point and drivers using a variety of strategies on different pit cycles.
--Field Level Media