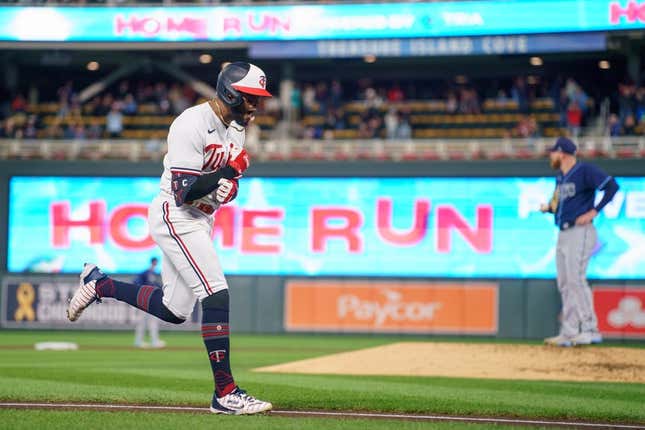 With Michael A. Taylor out because of a right hamstring strain, the Minnesota Twins are relying on their depth.
How running an NFL team is like running a restaurant | Chef Emeril Lagasse
Willi Castro stepped up in a big way Tuesday night, delivering the decisive two-run home run that rallied the Minnesota Twins to a 3-2 win over the Tampa Bay Rays in Minneapolis.
The teams have split the first two games of the series, with the rubber match set for Wednesday afternoon.
The Twins (76-69) remain hopeful Taylor will return to the lineup soon. However, it likely won't be in time to face the Rays (89-57).
Minnesota manager Rocco Baldelli is hopeful Taylor will be back by the end of the week.
"He's improving. He's done a lot better," Baldelli said. "He was actually on the field, running some striders — I'd say, 85 percent out there. Those are all very positive things."
If Taylor isn't ready, Castro showed that he can impact the game with one swing.
"Like I say, we have the team to have games like this," Castro said postgame Tuesday. "We came out today, we gave it all. We came together, and that was our result."
The Rays, meanwhile, are hopeful their All-Star first baseman, Yandy Diaz, is available on Wednesday. Diaz, who is batting .323 with 20 home runs, was replaced in the fifth inning on Tuesday after fouling a ball off his groin area.
The Rays have received key contributions from a number of position players this season. In recent games, Diaz and Josh Lowe have been two key contributors. Lowe had an RBI single on Tuesday.
"Some teams are built where you have one or two superstars that sit there in the middle of the lineup every single day," Rays manager Kevin Cash said. "We've got some really good players who may become superstars. Right now, we rely on a different batter, a different guy, every day."
The Twins are scheduled to start left-hander Dallas Keuchel (1-1, 4.78 ERA) on Wednesday. The Rays will counter with 22-year-old rookie Taj Bradley (5-7, 5.44).
Keuchel was added to the Minnesota roster in early August, and this will be his sixth start (seventh appearance). Most recently, he limited the New York Mets to two runs on three hits in two innings during a no-decision on Friday.
In 10 career starts against the Rays, Keuchel is 2-6 with a 4.72 ERA.
Bradley will face the Twins for the first time. Despite some growing pains this season, the right-hander has struck out 111 in 86 innings. On the road, Bradley is 2-4 with a 5.09 ERA.
He will hope for some support from fellow rookie Royce Lewis, who, when healthy, has shown why he was considered one of the top prospects in the sport.
Lewis crushed a three-run home run in the Twins' 7-4 loss Monday. On Tuesday, he was hitless in four at-bats.
"He's continuing to adjust along with the pitchers that he's facing," Baldelli said. "He's been able to do different things with his swing decisions that I think have put him in a position to just keep succeeding."
—Field Level Media