Randall Hampton, Derrick Rose's friend and employee, took the stand late Tuesday to testify about his recollection of the night at the center of the civil suit accusing Hampton, Rose, and a third man, Ryan Allen, of gang-raping a woman. He also explained why it was OK for him to have sex with the woman, despite her sexual history with Rose, because she "wasn't his girlfriend."

Randall Hampton said in court that he works for Rose, via DMR Enterprises, and is a consultant with Adidas. He described his job as keeping Rose "on point." Hampton gave his account of that night, which he called a "little get-together" at the Beverly Hills house Rose was renting. He said the woman came over with a friend and had a few shots of Don Julio tequila. At some point, she gave Hampton a lap dance and then gave Ryan Allen a lap dance. Hampton got a condom and had sex with the woman, missionary, on a cabana bed on the patio area.
"She pushed me over to the bed, she grabbed my penis, and pushed it into her vagina," Hampton said. "Yeah, I'd say she was into it."
At some point, Rose came out of his room and came over to the cabana bed. That's when Hampton said the woman started giving Rose oral sex. In a part of Hampton's deposition, which the woman's lawyer Waukeen McCoy read aloud in court, Hampton then said that's when he "finished up" and went to clean off. Afterward, Hampton said he and Rose talked about how "the sex was good."
G/O Media may get a commission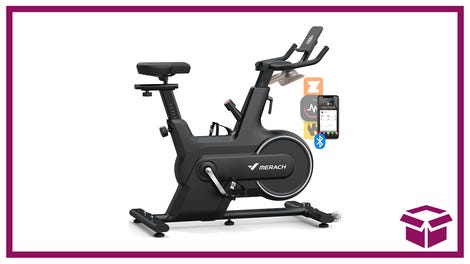 14% off + Coupon
Merach Indoor Cycling Bike
McCoy also asked Hampton to explain several discrepancies between his testimony and Rose's, such as in what position he had sex with her (Hampton said missionary, Rose had said standing up), the woman's state of dress (Hampton said she hiked up her dress, Rose had said she was naked).
Rose "has a hard time remembering things," Hampton said, an explanation he returned to in similar terms multiple times.
When McCoy asked about changes in Hampton's answers between his deposition and what he said in court, Hampton said it was because he was nervous during the deposition. Rose had used the same explanation for his own inconsistencies between what he'd said in the deposition and his courtroom testimony.
The sex acts at Rose's rented house are not part of the victim's narrative of alleged rape. Her complaint deals with what happened later in the night, after she and the men went over to her apartment.
Hampton spent less time in court talking about what happened at the apartment than he did discussing the first part of the night. He said that when the group went to her apartment, he knew it was a "possibility" that he would have sex with the woman, but he wasn't certain.
McCoy read aloud from Hampton's deposition, in which he'd said, "What would we be going to her house for ... I'm thinking we're going to do the same thing." Hampton affirmed that testimony but said there were other reasons, as well. "I felt like she liked me," Hampton said.
Hampton said that despite the woman's history with one of his best friends, he considered it OK to have sex with her, because she "wasn't [Rose's] girlfriend." Rather than being boyfriend and girlfriend, what Rose and the plaintiff had was a "sexual relationship," Hampton said, just as Rose had testified when he was on the stand. Hampton said he had booked flights for the woman to visit Rose for that reason—for them to have sex.

"It wasn't a relationship," Hampton said. "It was a sexual relationship, if any."
Hampton thinks he was the second of the three men who had sex with her at her apartment that night. He wasn't certain of the order. When asked if she had seemed impaired, Hampton said, "she seemed fine to me."
In other trial action: In an ongoing dispute about when the plaintiff's lawyers had shared evidence with the defense, Judge Michael Fitzgerald also told McCoy and the woman's other lawyers that they needed to produce proof tomorrow morning to show when they had provided Rose's lawyers with copies of several text messages.
The defense lawyers had said Friday that they hadn't been given the text messages before the trial began, which they said hurt their ability to defend the case and gave them cause to ask for a mistrial. McCoy said that the text messages had been provided three times, between November 2015 and January of this year.
Fitzgerald made it clear to the woman's lawyers that he was not pleased. He said they had been "unbelievably careless with the exhibits" and said the defense's concerns were not trivial. But he expressed some concerns about restarting the entire case, with the NBA season approaching and a jury already seated and hearing testimony.