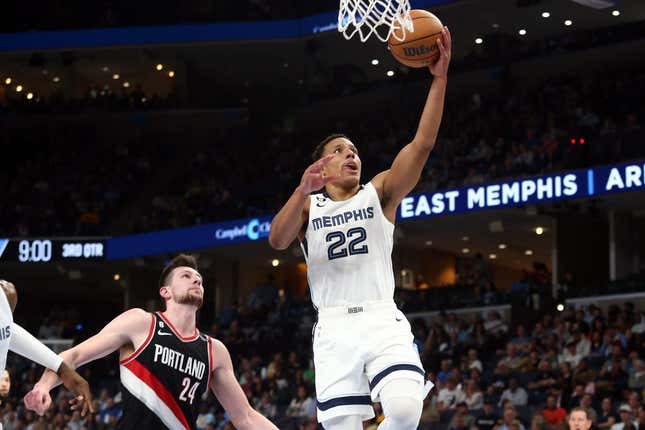 Desmond Bane had 30 points, seven rebounds and five assists and Ja Morant recorded 23 points, nine assists and six rebounds to lead the Memphis Grizzlies to a 119-109 victory over the visiting Portland Trail Blazers on Tuesday night
Aaron Rodgers should go full Joe Namath | Comedian Bert Kreischer
Luke Kennard made six 3-pointers while scoring 20 points as the Grizzlies (50-29) reached the 50-win mark for the second straight season. Jaren Jackson Jr. added 17 points and seven rebounds and David Roddy scored 16 points for Memphis, which won for the 12th time in the past 15 games
The Grizzlies moved within two games of the first-place Denver Nuggets in the Western Conference while maintaining their two-game lead over the third-place Sacramento Kings
Skylar Mays registered 24 points, eight rebounds and seven assists in his third game with Portland (33-46) and Shaedon Sharpe added 20 points, eight rebounds and six assists. Jabari Walker scored 16 points, Shaquille Harrison added 13 and John Butler Jr. had 10.
Portland was again without star Damian Lillard (calf) as well as fellow starters Jerami Grant (quadriceps), Jusuf Nurkic (knee) and Anfernee Simons (foot).
Dillon Brooks (hip) sat out for the Grizzlies
Memphis shot 48.3 percent from the field and was 18 of 48 from 3-point range. Bane made five treys.
The Trail Blazers made 43.3 percent of their shots, including 14 of 42 from behind the arc
The Grizzlies trailed 101-96 with nine minutes remaining before delivering a 22-2 knockout punch
Bane drilled three 3-pointers as Memphis began the run by scoring 13 of 15 points to take a 109-103 lead with 4:14 remaining. Jackson followed with consecutive hoops, Roddy knocked down a trey and Jackson made two free throws to complete it and make it 118-103 with 1:43 remaining as the Grizzlies closed it out
Portland recovered from a 19-point first-quarter deficit to trail 66-62 at halftime and then opened the third quarter with a 13-4 push to lead by five with 8:37 remaining in the third quarter.
Memphis responded with a 15-3 burst and held an 85-78 lead on Kennard's sixth trey with 5:36 left in the period. The Trail Blazers answered and tied the game at 91 with 1:06 left on a 3-pointer by Justin Minaya, who was signed to a contract earlier in the day
The Grizzlies led 96-95 entering the final stanza before Portland scored six straight, including a 20-footer by Sharpe to take a five-point lead with nine minutes left
Kennard scored 15 points on five 3-pointers and Morant also had 15 points as the Grizzlies led 66-62 at the break. Mays scored 17 in the half for the Trail Blazers
--Field Level Media