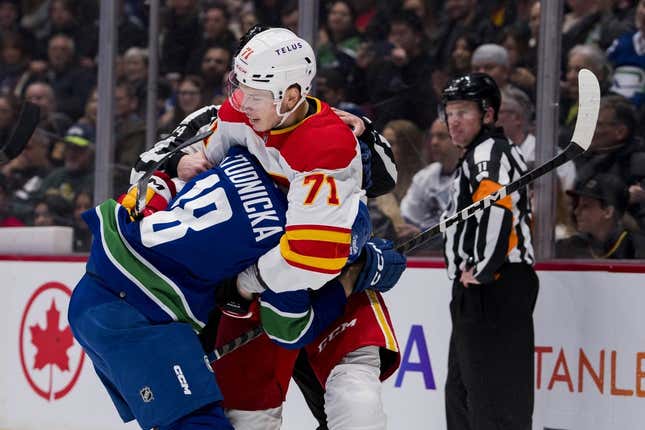 The Calgary Flames have reached that stage in the season where every game is more important than the last so they are grateful to have two days of preparation to get ready for another clash with the Vancouver Canucks
Does Jimmy Butler have the best NBA Finals origin story? | Agree to Disagree
Calgary (37-27-15, 89 points) is fighting for its playoff lives and brings a three-game road win streak into Saturday's matchup with Vancouver (35-36-7, 77 points).
It will be the second game in nine days against the Canucks, who have already been eliminated from playoff contention
The Flames are tied with the Winnipeg Jets with 89 points for the final wild-card spot in the Western Conference, but the Jets hold the tiebreaker and have one game in hand
Calgary won 5-4 in overtime against Vancouver on Mar. 31. The Flames don't have to do anything different on Saturday as coach Darryl Sutter simply wants them to bring the same intensity they had against the Canucks and in their 3-1 victory over the Jets on Wednesday
"(People) outside the room has been telling us it's the biggest game, or it's over, or how bad we are since the All-Star break. It's like I tell the players, 'Block it out and play the game,'" said Sutter after the win over Winnipeg.
The Flames close out the regular season at Vancouver, then back home against Nashville and San Jose. Winnipeg has four games left -- home contests against Nashville and San Jose before road tests versus Minnesota and Colorado
Goaltender Jacob Markstrom showed against the Jets why he was a Vezina Trophy candidate last season, turning aside 34 shots in a spirited and penalty-filled contest.
"Marky's been a rock for us for a couple months now," said Sutter.
Canadian forward Andrew Mangiapane likes their chances of overtaking the Jets.
"We're really close to these guys in the standings and we just tied it up there," he said. "We've been playing playoff hockey for the past 30, 40 games now. We knew what kind of spot we'd be in, so we're pushing and we've got three games to make it."
Forward Walker Duehr said the players are all comfortable with their roles on the ice.
"Just buying into the systems, right? Just staying with our game plan and committing to playing behind them and getting pucks to the net and it paid off for us."
The Canucks are still searching for a semblance of cohesion on the ice under new head coach Rick Tocchet. They ended a four-game skid (0-2-2) and snapped a team-record 133-game shutout drought with a 3-0 win over the Chicago Blackhawks on Thursday
Californian Thatcher Demko recorded his first shutout of the season and the third of his career. He hadn't had a shutout since Dec. 6, 2021, against the Los Angeles Kings.
He is 9-4-2 with a .913 save percentage since returning Feb. 27 from a groin injury that kept him out almost three months.
The Canucks have been frantically searching to shore up their swiss-cheese defense and they might have found the answer in 23-year-old Akito Hirose
Hirose assisted on two goals against the Blackhawks in just his third NHL game since signing as a free agent on Mar. 29 following his junior season at Minnesota State University.
"I'd probably say I'm more excited for getting the two points in the 'W' over getting my own two points," Hirose said. "Just happy we got to win."
--Field Level Media