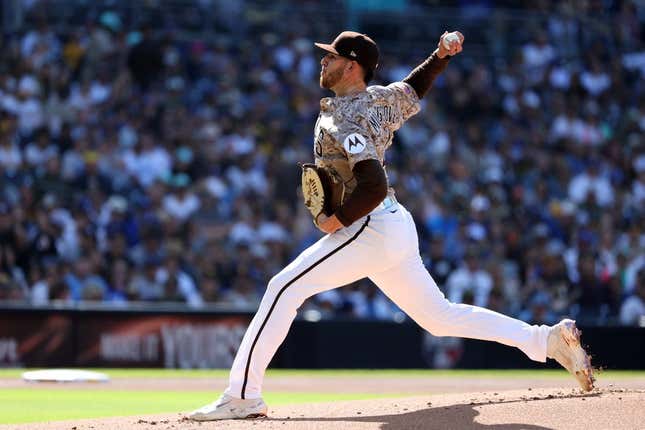 The season is not quite a quarter old, but the San Diego Padres are learning a hard truth
Are the Oakland A's a failed state? | Agree to Disagree
Expectations do not automatically translate into success.
The Padres lost Friday for the third time in four meetings against the Dodgers this season to fall under .500. Yes, it's early, but a Padres team that set unseating the Dodgers as National League West champions as one of its 2023 goals are currently closer to the fourth-place San Francisco Giants than to first place -- or even second -- in the division
And the Padres have lost three straight and five of their past six games while the Dodgers have won three in a row, five of the past six and 11 of 13. Before returning home Friday to open a six-game homestand, the Dodgers went 4-2 on a trip to San Diego and Milwaukee. Before that, the Dodgers swept a three-game series from the reigning NL champion Philadelphia Phillies to complete a 6-0 homestand
"It's always a good sign when you are playing winning baseball against the tougher teams on your schedule," Dodgers manager Dave Roberts said. "It's early. But I really like what we're seeing.
Of course, Padres manager Bob Melvin hasn't liked what he's been seeing. But he did see some improvement Friday night
"We had good energy the entire game," Melvin said. "I thought we stayed with it well. We couldn't follow through."
Of course, the Padres still rank last in the majors in hitting with runners in scoring position and were 1-for-7 Friday night
On paper, things don't get much better for the Padres on Saturday in a nationally televised meeting with the Dodgers
The Padres will be sending out their ace in right-hander Joe Musgrove (1-0, 6.75 ERA). The Dodgers will counter with left-hander Julio Urias (4-3, 3.77). This is a rematch of last Sunday's game in San Diego, which ended in one of the Padres' more brutal defeats of the season
Musgrove held the Dodgers to one unearned run on two hits and three walks over five innings. The Padres were holding onto a 2-1 lead in the ninth with Josh Hader one out away from his 12th save in as many tries when Mookie Betts - who broke a 2-2 tie Friday night with a homer -- went deep to tie the game. The Dodgers then scored three runs in the 10th to win 5-2 and take yet another series against the Padrdes
Urias last Sunday held the Padres to two runs on eight hits and a walk with three strikeouts in 5 2/3 innings. Urias has a 6-1 career record and 2.27 ERA against the Padres in 16 games (11 appearances) with 62 strikeouts and 23 walks in 67 1/3 innings. The Padres have a .196 opponents' batting average, a .279 on-base percentage and a .600 OPS against the 26-year-old Urias
Meanwhile, throw out Musgrove's ERA. With the start of his season delayed by a broken big toe suffered during a spring training workout, Musgrove drew the short straw and, on April 29, started the first regular-season major league game ever played in Mexico City.
In an 11-homer game the Padres won 16-11, Musgrove gave up seven runs on six hits (including three homers) in 3 1/3 innings
--Field Level Media