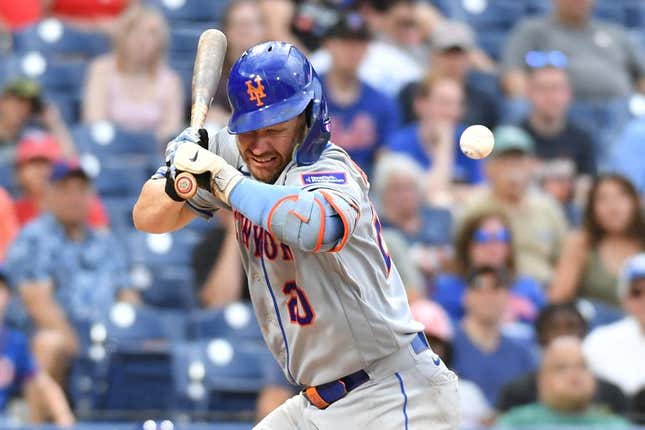 On Sunday afternoon, the New York Mets were six outs away from earning a much-needed series win and generating the type of positive momentum they've lacked all month
How running an NFL team is like running a restaurant | Chef Emeril Lagasse
Four runs via one bizarre eighth-inning rally by the Philadelphia Phillies later, the Mets were once again left to wonder if or when their nightmarish season ever will turn around
New York will look to begin ending a difficult month on an upbeat note on Monday night when it hosts the Milwaukee Brewers in the opener of a four-game series
Justin Verlander (2-4, 4.50 ERA) is slated to start for the Mets against fellow right-hander Colin Rea (3-4, 4.88)
The Mets failed to win a series for the seventh straight time Sunday afternoon when Jeff Brigham plunked Kyle Schwarber and Trea Turner to force home the tying and go-ahead runs for the host Phillies, who held on for a 7-6 win
Meanwhile, Owen Miller had a go-ahead RBI double in the 10th inning for the visiting Brewers, who earned a 5-4 win over the Cleveland Guardians on Sunday in the rubber match of a three-game set
There's been no shortage of painful losses this month for the Mets, who are 6-15 in June and have gone 0-6-1 in seven series since sweeping a three-game set from the Phillies from May 30 through June 1
But allowing the Phillies to score four runs with the benefit of just one hit in the eighth might have led to the most demoralizing defeat of all for the Mets. Brigham and Josh Walker combined to issue three walks and hit two batters while rookie third baseman Brett Baty committed an error on a potential double-play grounder that could have limited the damage
"There were times we felt like this was one we've got -- that hurts," Mets center fielder Brandon Nimmo told Newsday afterward. "It's either keep going or give up. There's a lot of these guys in this locker room who are here because they didn't give up. They kept going even when people doubted them.
Beating the Guardians after ace Corbin Burnes squandered a three-run, sixth-inning lead allowed the Brewers to continue steadying themselves after a rough stretch earlier this month. Milwaukee lost seven of nine from June 5-14 but is 6-3 since then, a span in which it has won two out of three series
The Brewers had just one hit between the fifth and ninth inning Sunday before Miller, with one out in the 10th, delivered a double on the first pitch he saw from Trevor Stephan
The win, coupled with the Cincinnati Reds' 7-6 loss to the Atlanta Braves, pulled the second-place Brewers within a half-game of the surprising Reds in the National League Central as Milwaukee continues its 10-game road trip
"It's always nice to get off on a good foot when you're starting a long road trip," Burnes said. "We've got a little bit of momentum headed into New York."
Verlander took the loss last Tuesday, when he allowed four runs over seven innings as the Mets fell to the Houston Astros, 4-2. He is 2-0 with a 1.90 ERA in three career starts against the Brewers
Rea didn't factor into the decision last Tuesday after giving up five runs (four earned) over 5 1/3 innings in the Brewers' 7-5 win over the Arizona Diamondbacks. Rea won his lone start against the Mets on May 5, 2016, while pitching for San Diego. He allowed one run over a career-high eight innings in the Padres' 5-3 victory
--Field Level Media