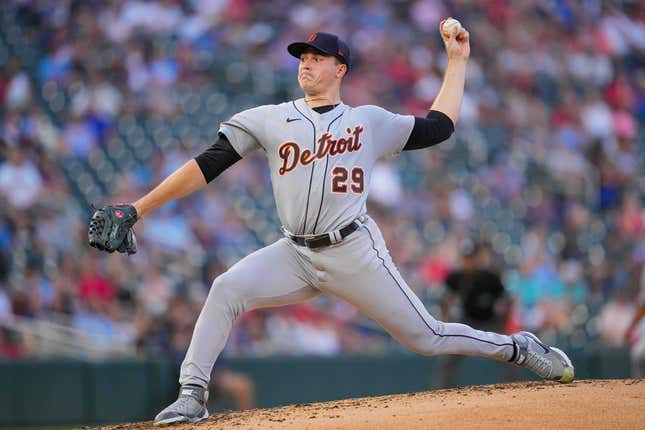 Detroit Tigers left-hander Tarik Skubal made a positive step this weekend in his long road to recovery from a 2022 season-ending elbow injury
Air Jordans are more American than McDonald's French fries | Deon Cole's Ultimate Sports Fantasy
He threw off a mound for the first time in nearly nine months with no setback. Skubal hurled 15 pitches -- all fastballs -- during a bullpen session Saturday at Comerica Park.
"The ball came out well," Skubal said Sunday. "I felt good yesterday, and I feel good today. That's the most important thing. Bullpen next week, and then increase pitches, kind of like a normal progression would go in spring training."
Skubal's last major league game was Aug. 1, 2022, when he exited after five scoreless innings at the Minnesota Twins because of arm fatigue. Two weeks later, he underwent flexor tendon surgery.
Skubal isn't eligible to come off the 60-day injured list until May 29, but there is no date for his return. The Tigers are taking their time with him
"It's a good step," Detroit manager A.J. Hinch said Sunday. "These guys go step by step, and we try not to get too far ahead of ourselves and start thinking about anything other than what the next throw day for him is. For me, with the guys that are out for longer than a week, it's just small victories along the way on a journey to get to the finish line."
Skubal, 26, was drafted by the Tigers in the ninth round in 2018 and made his major league debut in August 2020. He has a career 16-24 record with a 4.15 ERA, 318 strikeouts and 90 walks in 299 innings over 60 games (57 starts)
Last season, he was 7-8 with a 3.52 ERA, 117 strikeouts and 32 walks in 117 2/3 innings in 21 starts.
"He'll just progress, and we'll update you guys accordingly," Hinch said. "But getting him back on the mound fairly regularly is the goal, always keeping in mind that the schedule can change. We're getting him back into being a pitcher."
--Field Level Media