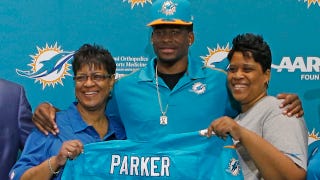 Sports moms are usually good moms. Devante Parker, who was picked 14th overall by the Miami Dolphins in the first round of this year's draft, has a good sports mom.
Parker has been deemed a pretty highly-rated receiving prospect. As he slid out of the top-1o of this year's draft, any of the teams picking could've justifiably snatched him up. As it were, Parker's mom Raneca was happy to see her son slip past Cleveland at No. 12 and end up with Miami. Here's what Raneca had to say, via Adam Beasley of Miami Herald:
"We didn't want him going to Cleveland," Raneca Parker said Friday, less than 24 hours after the Dolphins took her son with the 14th pick. "They don't have a team, really, or a quarterback. I knew I didn't want the Cleveland Browns.

"I know the teams he could go to and the teams he couldn't go to. We were happy with the Miami Dolphins. He was very ecstatic. We're happy, we love the weather."
She left out the fact that Cleveland's owner was associated with some serious white-collar crime and that the team may take draft advice from homeless people, but otherwise, yeah, a pretty solid assessment of the Browns.
Photo via Getty