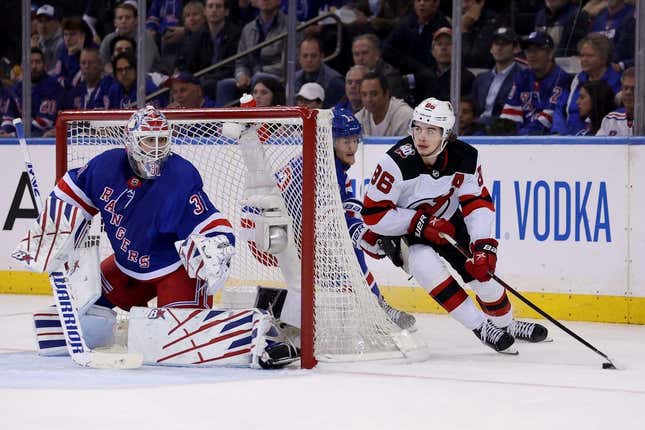 Jonas Siegenthaler notched an assist on the first goal before later scoring what ended up being the game-winner for the visiting New Jersey Devils, who evened an Eastern Conference quarterfinal series with a 3-1 win over the New York Rangers on Monday night in Game 4
'Soccer fandom is full of gatekeepers' says Ted Lasso actor Brendan Hunt
The Devils won both games at Madison Square Garden to wrest home-ice advantage back from the Rangers, who won the first two games of the best-of-seven series by identical 5-1 scores
Game 5 is scheduled for Thursday night in Newark, N.J.
Vincent Trocheck tied things up at 1-1 for the Rangers just under seven minutes before Siegenthaler gave the Devils the lead. Siegenthaler took a cross-ice pass from Nico Hischier and firing a shot that sailed past Igor Shesterkin and rang off the far post with 11:38 left in the third
Siegenthaler retrieved the puck from the edge of the blue line and collected the assist on Jack Hughes' goal early in the first for the Devils. Ondrej Palat added an empty-netter with 25.1 seconds left in the game
Rookie goalie Akira Schmid made 22 saves in winning his second straight start.
Shesterkin recorded 20 saves for the Rangers
The Devils took the lead just 2:50 into the first following a chaotic sequence. Schmid turned back a shot by Kaapo Kakko and slowed but didn't fully stop a putback attempt by Alexis Lafreniere. Siegenthaler got into the crease and cleared the puck with a no-look backhand that sailed well into the neutral zone, where it hit Hughes in stride
Hughes, with Adam Fox a couple strides behind him, bore in on Shesterkin and shuffled from the backhand to the forehand before coming to a screech in the crease and tucking a shot into the left corner of the net.
The Devils outshot the Rangers 8-6 during a scoreless second before New York tied the score 1:42 into the third. Trocheck won a faceoff with Michael McLeod deep in the New Jersey zone and positioned himself in the slot, where he was able to convert the third attempt of a sequence that began with a shot by Patrick Kane and continued with a backhanded rebound by Chris Kreider
--Field Level Media