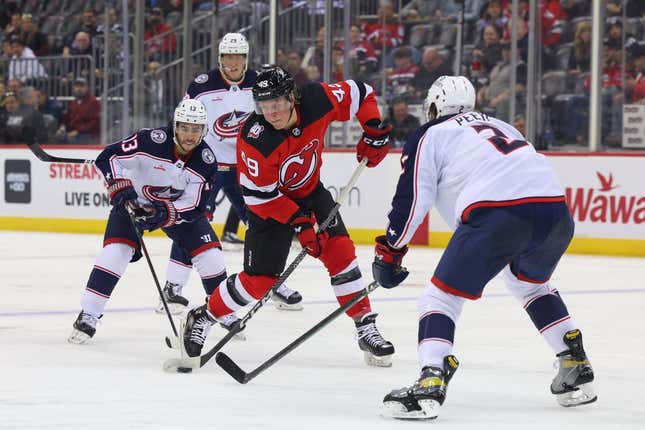 With first place in the Metropolitan Division still in sight, the New Jersey Devils will try to gain ground when they host the Columbus Blue Jackets on Thursday in Newark, N.J
Chris Paul should ride the bench next season | Keep it a Buck(et)
The Devils (49-21-8, 106 points) are three points behind the first-place Carolina Hurricanes, who have a game in hand over New Jersey. The third-place New York Rangers also aren't far behind in the standings, so the Devils will have to keep the momentum going over the regular season's final four games
This means that no opponent can be overlooked, even though the Blue Jackets (24-45-8, 56 points) are near the bottom of the NHL standings. The Devils also haven't been heading toward the playoffs in peak form, with only a 5-5-2 record in their last 12 games
The Devils are 3-1-0 over their last four games, but their inconsistency was on display in the one loss -- a 6-1 rout at the hands of the Winnipeg Jets on Sunday. However, the Devils responded with one of their better outings of the season, rolling to a 5-1 victory over the Pittsburgh Penguins on Tuesday
"Coming off that last game we wanted to make sure we came out fast (and were) ready to go, because obviously we didn't want to see a repeat. ... Once we got that early lead, we just kept going," forward Dawson Mercer said.
Mercer scored a goal in every period Tuesday for the first hat trick of his young career. The 21-year-old has broken out with 27 goals and 28 assists in his second NHL season.
Vitek Vanecek stopped 21 of 22 Pittsburgh shots to earn his 31st win of the season. The Devils might opt to keep starting Vanecek until their division placement is settled, or backup goaltender Mackenzie Blackwood might face Columbus in order to rest Vanecek for the stretch run
The Blue Jackets are 1-4-1 in their last six games and 4-10-2 in their last 16. All four of those wins came in overtime, as the Jackets haven't tallied a regulation victory since their 5-3 triumph over the Buffalo Sabres on Feb. 28
Since the Blue Jackets are looking ahead to next season, their final games present opportunities for young players to step up. Rookie goaltender Jet Greaves is a prime example, as he stopped 46 of 49 shots in his first career NHL game to help the Jackets stay close in a 4-2 road loss to the Toronto Maple Leafs on Tuesday
"I thought (Greaves) looked very calm," Columbus coach Brad Larsen said. "I don't fault him on any of the goals at all. ... He looked really poised in the net tonight. I'm so happy for him."
Greaves' next start might come Thursday, unless veteran Michael Hutchinson gets the nod to face New Jersey.
Jack Roslovic has eight points (four goals, four assists) over his last six games. The forward returned to face Toronto after missing two games with an upper-body injury.
New Jersey won its first two meetings with Columbus this season, though the Blue Jackets have dominated the rivalry in recent years. Dating to the 2014-15 season, the Jackets are 21-6-1 in their last 28 games against the Devils
--Field Level Media